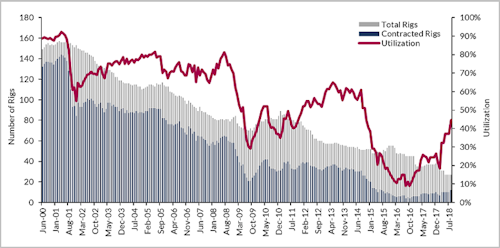 Offshore staff
HOUSTON– The US Gulf of Mexico (GoM) jackup market has quietly become one of the best in the world, according to a report from Westwood Global Energy Group.
At first glance, it would be difficult to view a region with just 27 jackups and only 12 of those contracted as warranting any special attention. However, a deeper dive into the numbers shows that the region is doing well. Utilization of the 12-rig marketed fleet is 100% and contract backlog is increasing. Day rates have risen, with anecdotal evidence suggesting that further increases for some segments of the fleet are not far off.
It should be remembered that this market is nowhere near what it once was. Looking back to June 2000, supply reached 157 in March 2001, while the high point for the number of working rigs hit 144 a month later. However, by the end of 2001, the number of contracted units was less than 100 and demand was well on its way to the historic low levels it ultimately reached.
Supply was initially slower to react, but continued mobilization out of the region as well as retirements ultimately brought that number down as well. The end-result has been an 83% supply decrease and a 92% fall in demand between June 2000 and August 2018, declines not likely equaled by any other region over the same period.
However, also notable is the sharp upward spike in the utilization line in 2018. Since January, fleet supply decreased by 10 while demand rose by four, resulting in utilization more than doubling from 21% to 44% in August.
Looking at the current contracted fleet, seven of the 12 units are rated to work in up to 350 ft (107 m) or greater. Six of the 12 units have work that will last until March/April 2019, with one already contracted to September of next year. In addition, another two rigs are expected to soon secure extensions that will extend their availability to mid-2019 or beyond. In a market where well-to-well contracts have generally been the norm, having nearly 70% of the fleet with seven to eight months of backlog is a welcome development for rig owners, the analyst said.
For operators, however, it is a different story as they are unable to find a jackup for their work that requires a long-legged unit, so much so that there is now talk of additional supply being speculatively mobilized to the region, a scenario not seen in this region in many years.Rowan'sRalph Coffman was mobilized into the Gulf from Trinidad in February, but that was for a specific requirement that no available jackups already in the region could perform.
Helping drive this demand surge has been several recent noteworthy term contracts, many of which have not begun yet.Cantium LLC just signed a contract to take the Rowan EXL III for six months plus a three-month option. This in addition to a one-year deal the operator inked with Enterprise Offshore Drilling jackup Enterprise 205in April. ExxonMobil recently signed a seven-month contract with ENSCO that is likely to be extended, and Castex Offshore, which had previously signed a deal to pick up the ENSCO 68 for more than 200 days, just exercised an option for a third well that will keep it busy for another 100 plus days. Talos Energy picked up an ENSCO jackup in May for an initial 120-day program. The company has already extended it for 90 days and at the time of writing extended it for a further nine months through September 2019. Finally, Arena Offshore, which has two jackups under contract, continues to extend both, usually in 90-day increments. The company recently extended its program with the ENSCO 102 for 90 days starting on Dec. 30.
Signing new contracts this far in advance does not typically occur in the GoM, according to the report, but operators are clearly cognizant of the current rig shortage.
Regarding day rates, the progression upward has been slow, but the gains made have returned rig owners to some level of profitability. In February, there was one new fixture for a 375-ft (114-m) rated unit that was well above the rest of the market but in general new fixtures for the various fleet segments have stayed in a tight band. In many recent cases, the upward movement has not always been the high end of rates increasing as much as it has been the low-end rates increasing. At present, the high end of rates for the 375-400-ft rated units is $78,000, which was fixed in a recent contract extension. Reports also indicate another deal on a different rig will be consummated soon at the same number, which will also represent a healthy increase from the rig's previous rate.
For the other segments of the fleet, rates seem to be now settled in the $60,000-70,000 range, although the lower end for the most recent fixtures is closer to $65,000. In the near term, the analyst firm anticipates that as many as two new deals will be signed for long-legged units at rates of $80,000 or more, once again establishing a new plateau in the current market. For other water depth segments, it expects rates for new deals and extensions to continue in most cases to be at slightly higher levels as well.
Based on discussions with rig owners, the analyst said that as many as three long-legged units could be brought from other countries to the GoM over the next several months. In addition, it would not be a surprise to see Perforadora Central'sUxpanapa jackup, which has been stacked in Brownsville since its delivery in 2014 put to work here. The rig was originally built with the intent of working for Pemex, but now the marketing rights in the GoM have been given to a non-jackup rig owner in the Gulf of Mexico. The company says it will be brought out for the right contract, but whether that occurs is still a question mark. Finally, the analyst anticipates that the WFD 250, which White Fleet Drilling purchased from ENSCO in 2017, is likely to be reactivated.
Reports indicate at least four operators that have nine- to 12-month programs for long-legged jackups planned to begin in 1Q 2019. At present, there are four long-legged units with contracts that end by March 31, 2019. However, three have options that are expected to be exercised, with the fourth likely to have additional work signed up soon, thus the likelihood of rigs mobilized to the region. According to the report, there are also other programs with durations in the five- to six-month range and coupled with the typical 30-45-day type jobs that always exist in this region, rig owners have good reason to feel optimistic.
While all these potential developments are certainly a positive for this market, rig owners will also have to be careful not to overdo it. As is the case with newbuilds, that is the overbuild that always seems to take place in those cycles, bringing too much equipment into the area could result in an oversupply if just a few things did not go as planned. At this point, however, it appears there is enough demand to absorb some additional rigs.
08/13/2018