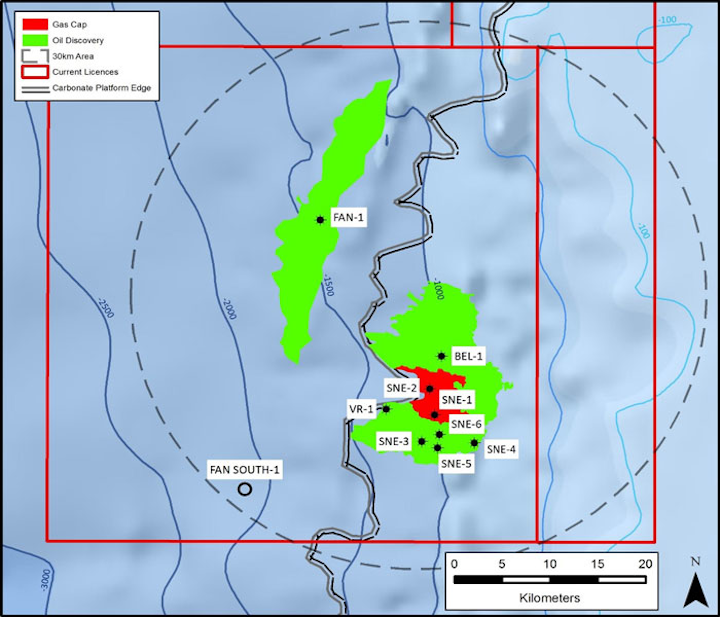 Offshore staff
EDINBURGH, UK – The drillship Stena DrillMAX has completed operations on the latest appraisal well of the SNE oil field offshore Senegal.
Operator Cairn Energy's main goal was to flow oil from one of the principal units in the upper (400 series) reservoirs and demonstrate connectivity between the two wells.
Pressure data from the latest well, SNE-6, confirmed good connectivity with SNE-5, 1.5 km (0.93 mi) away.
Currently Cairn is analyzing the results to determine how water flood secondary recovery could be applied to the upper reservoirs.
Further analysis will follow once interference test data has been gathered from the observation wells, to assess the impact on modeled reservoir architecture, the recoverable resource base, and the probable development plan.
Chief executive Simon Thomson said: "This is our ninth successful well in Senegal in three years. The results from this latest well together with SNE-5 andVR-1 provide essential data as we move towards submitting a development plan for the SNE field to the government of Senegal in 2018."
SNE-6 is being P&A'd, with theStena DrillMAX relocating to spud the FAN South exploration well, 20 km (12.4 mi) southwest of SNE-3, well in 2,175 m (7,136 ft) water depth.
This will target two prospects with potential resources of more than 110 MMbbl; an Upper Cretaceous stacked multi-layer channelized turbidite fan prospect and a Lower Cretaceous base of slope turbidite fan prospect, equivalent to the 2014 FAN-1 oil discovery.
05/18/2017