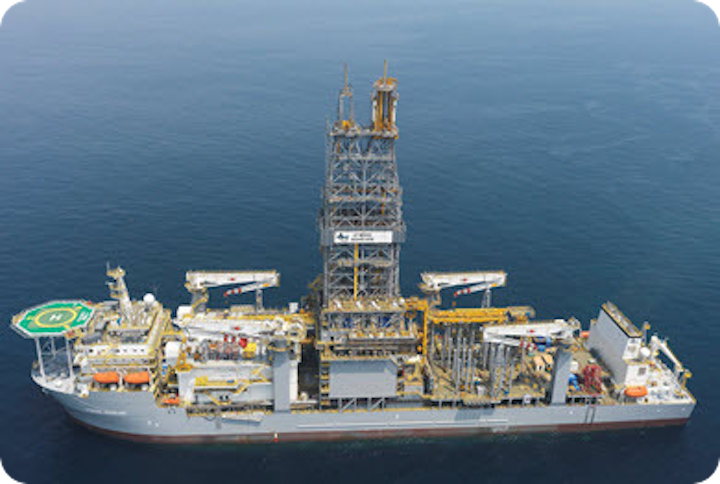 Offshore staff
DALLAS and LONDON – BP and joint venture partner Kosmos Energy have discovered gas with the Yakaar-1 exploration well offshore Senegal.
Located in the Cayar Offshore Profond block approximately 95 km (59 mi) northwest of Dakar in nearly 2,550 m (8,336 ft) of water, the well was drilled to a total depth of about 4,700 m (15,420 ft).
Yakaar-1, drilled by theAtwood Achiever drillship, intersected a gross hydrocarbon column of 120 m (394 ft) in three pools within the primary Lower Cenomanian objective and encountered 45 m (148 ft) of net pay. Well results confirm the presence of thick, stacked, reservoir sands over a large area with good porosity and permeability.
Kosmos estimates that Yakaar-1 discovered a gross Pmean gas resource of about 15 tcf, in-line with pre-drill expectations.
After completing operations on the Yakaar-1 well, theAtwood Achiever will mobilize to the Tortue-1 well to conduct a drillstem test on the Tortue discovery, enabling the commencement of front-end engineering and design in the second half of 2017, final investment decision in 2018, and first gas in 2021.
Yakaar-1 is the first well in a series of four independent tests of the basin floor fan fairways, outboard of the proven slope channel trend opened with the Tortue-1 discovery.
Kosmos has now drilled six consecutive successful exploration and appraisal wells in this fairway with a 100% success rate.
The Yakaar discovery, coupled with theTeranga discovery, creates the foundation for a further LNG hub in the basin, according to both companies.
Kosmos Chairman and CEO Andrew G. Inglis said: "The result also confirms our view of the potential scale of the petroleum systemoffshore Mauritania and Senegal, in particular the basin floor fan systems which have now been further de-risked, with the well demonstrating that reservoir and trap both work in these previously untested fairways."
05/08/2017