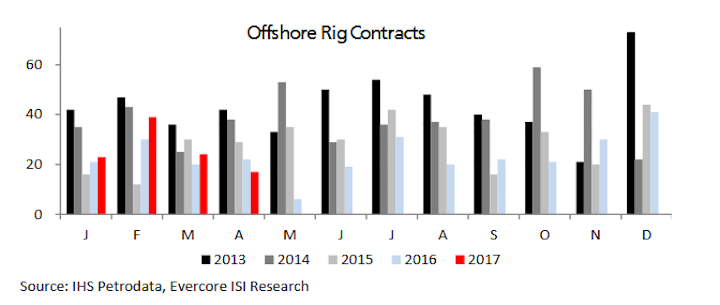 Offshore staff
NEW YORK–Evercore ISI's Oilfield Services, Equipment & Drilling Group has released its April Offshore Rig Market Snapshot report. 
A total of 17 contracts (nine new mutual, two priced sublet, four priced option, and two indexed) have been announced so far this month, up from six at this point in March, the report found. A total of 24 contracts were confirmed last month, down from 39 in February but up from 20 a year ago.
Of the 24 contracts firmed last month, only three were for term, with ONGC signing the midwaterAban Ice to three years and two jackups securing one year work offshore Qatar and Greece.
Jackup demand has reaccelerated in April, with three units securing term contracts. Most notably, North Atlantic secured 10-year contracts for theWest Elara and Linus offshore Norway from ConocoPhillips, while Apexindo's Soehanah will work offshore Indonesia for Pertamina.
On the floater side, theTransocean Spitsbergen secured 15 months of work with Statoil in the UK and Norwegian North Sea.
"We view the presence of international oil companies, E&Ps and national oil companies in securing term contracts as a positive indicator for the offshore rig market bottom, noting ConocoPhillip's new 10-year contracts are the longest term contracts secured by an international oil company since January 2013, when BP secured a couple of semisubs for work offshore Azerbaijan. We expect a few more contracts to be announced later this month, so that the April total is higher year-over-year for the fourth straight month," Evercore ISI said.
Fleet operations update
Rig contractors took delivery of a newbuild jackup over the past month, and Shelf Drilling'sKrathong is expected to start a new five-year contract with Chevron in Thailand later this summer. Diamond's Ocean Guardian and the ENSCO 8505 are newly idled, but the Sedco 712, ENSCO 122, ENSCO 106,andParagon B391 have all began new contracts.
Paragon plans to sell about 16 rigs as part of its bankruptcy filings, including three jackups to an affiliate of Perenco in Cameron. Separately,Ocean Rig disclosed plans to sell its two fourth-generation semisubs over the next 12 months as well as part of its restructuring plans.
Contract coverage
Vantage closed on the acquisition of theHercules 260 for an undisclosed amount, and the addition of a fifth jackup increased the company's 2017, 2018, and 2019 contract coverage by 27%, 22%, and 20%, respectively. The newly renamed Vantage 260 is contracted to Eni offshore Congo until April 2020, but Vantage plans to reactivate the 350-ft Sapphire Driller and replace the 250-ft Vantage 260 on the Eni contract later this year.
Meanwhile, North Atlantic's 2018/2019 jackup coverage also jumped due to the new ConocoPhillips contracts, vaulting it to first place among the companies in Evercore's coverage universe due to the size of its three-unit jackup fleet.
On the floater side, 2017 contract coverage improved for Pacific Drilling by 390 basis points (bps) to 25%; Atwood by 120 bps to 27%, and Transocean by 110 bps to 39%, but was flat or down slightly for all other companies in the analyst firm's coverage universe.
04/17/2017