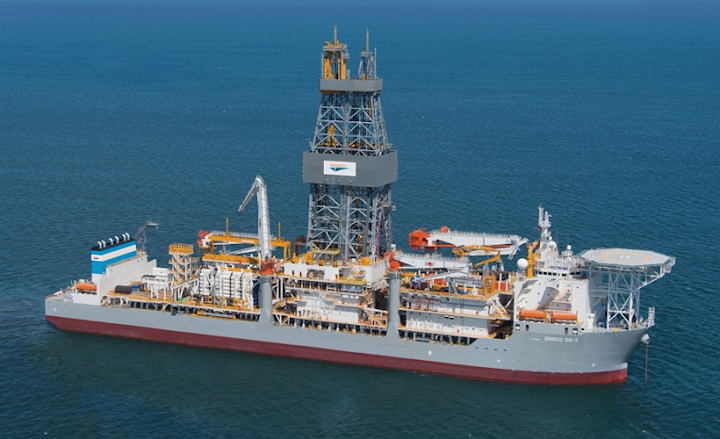 Offshore staff
LONDON – Ensco plc has secured three drillship contracts offshore West Africa, representing an aggregate three years of contracted term and more than six additional years of options.
TheENSCO DS-4is expected to begin a two-year contract with Chevron offshore Nigeria in August. The contract also includes a priced customer option for one additional year of work.
Ensco recently reactivated the rig following a period during which it was preservation stacked in Tenerife and reactivation expenses are expected to total $28 million. In addition, $15 million of capital upgrades were added to the rig.
TheENSCO DS-7 is contracted to Total until November 2017. The drillship is scheduled to mobilize to Ivory Coast to drill one well beginning next month, which is expected to take 60 days to complete. Total has a priced option for one further well.
Since November 2016, the rig has been idle in Tenerife earning a standby rate following early termination of its original contract for customer convenience.
TheENSCO DS-10 is scheduled to commence work with Shell offshore Nigeria in 1Q 2018. The contract duration is for one year and includes five one-year priced customer options. As a result of winning this contract, the rig's delivery is expected to be accelerated into 3Q 2017 from 1Q 2019.
TheENSCO DS-10 will then undergo a period of acceptance testing before mobilizing to Nigeria to begin its maiden contract. Remaining capex associated with the rig are expected to total about $190 million inclusive of a final milestone payment to Samsung Heavy Industries, an upgrade to add a second seven-ram BOP, acceptance testing, capitalized interest, and mobilization.
CEO and President Carl Trowell said: "We continue to see offshore drillers with track records of safe and efficient operations as well as financial strength win a disproportionate amount of new work and these contracts are examples of our recent success in capitalizing on this trend. Additionally, we believe that this new work positions us well for follow-on opportunities, benefiting future utilization for our rig fleet."
07/11/2017