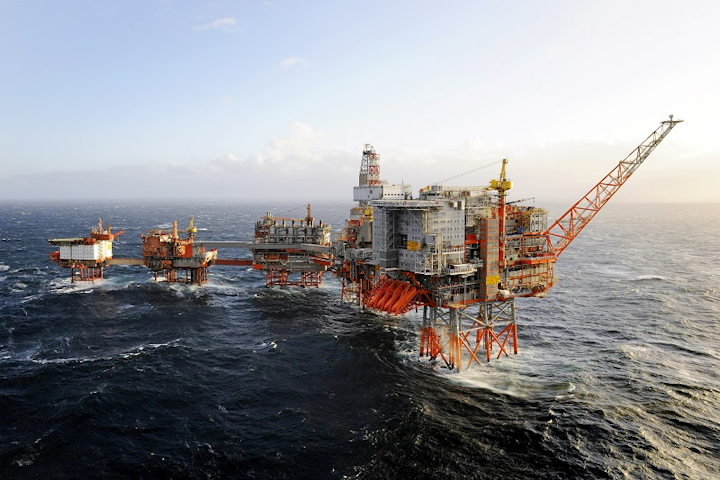 Offshore staff
FORNEBU, Norway – Aker BP has issued a progress report on incremental development projects at its Norwegian offshore production centers.
In theAlvheim area, the Volund West and South infill wells have been completed, with one well hooked up and coming onstream this month.
AtValhall, four parallel drilling and wells operations are in progress. The jackup Maersk Invincible continues its P&A campaign, while drilling from the IP platform rig is shaping up well with two wireline crews running P&A well interventions.
The Valhall Flank North platform is north of the main Valhall complex in 72 m (236 ft) water depth. Aker BP is working on expanding capability for water injection to the northern basin drainage area, allowing water injection to depleted producer wells with a view to increasing reserves recovery by 6-8 MMboe.
In the Norwegian Sea, two wells are currently shut in at the Skarv field complex because of technical issues. Both will probably be recompleted.
Planning continues for the tie-in of theSnadd satellite to the Skarv FPSO: Phase 1 will likely involve three subsea wells tied in to the Skarv A template, with first gas in 2020.
Main activities of the front-end engineering design program include qualification of the electrical trace heated pipe-in-pipe flowline system and selection of the optimal subsea production system. Aker BP expects to sanction the project during 4Q.
Finally, Statoil's latest estimate forJohan Sverdrup Phase 1 capex is NOK97 billion ($11.86 billion), more than 20% lower than in the original plan submitted in 2015, Aker BP points out, while its capex estimate for Phase 2 has come down by almost half to NOK40-55 billion ($4.89-6.72 billion).
07/17/2017