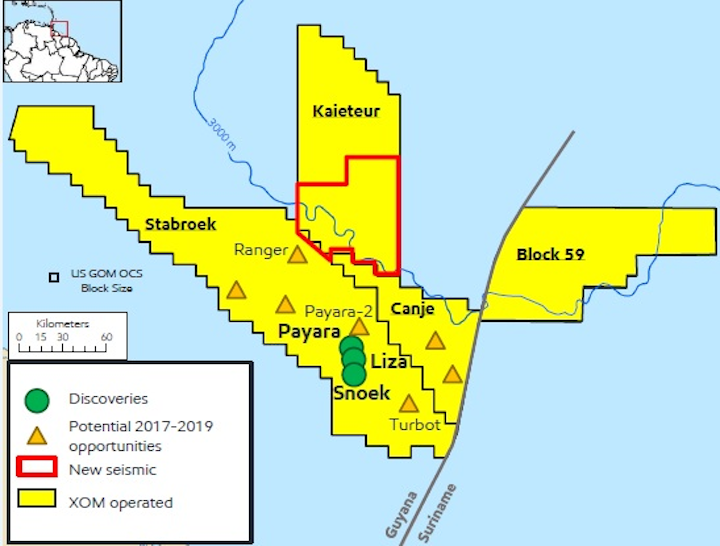 Offshore staff
IRVING, Texas – Exxon Mobil Corp. has discovered more oil on the Stabroek block offshore Guyana with the Turbot-1 well.
ExxonMobil affiliate Esso Exploration and Production Guyana Ltd. began drilling the Turbot-1 well on Aug. 14, 2017, and encountered a reservoir of 75 ft (23 m) of high-quality, oil-bearing sandstone in the primary objective. The well was drilled to 18,445 ft (5,622 m) in 5,912 ft (1,802 m) of water on Sept. 29, 2017.
The Turbot-1 well is located in the southeastern portion of the 6.6-million acre (26,800-sq km) Stabroek block, approximately 30 mi (50 km) to the southeast of theLiza Phase one project.
Turbot is ExxonMobil's latest discovery to date in the country, adding to previous discoveries at Liza,Payara,Snoek, and Liza Deep. Following completion of the Turbot-1 well, the Stena Carron drillship will move to the Ranger prospect.
An additional well on the Turbot discovery is being planned for 2018, the company said.
Steve Greenlee, president of ExxonMobil Exploration Co., said: "The results from this latest well further illustrate the tremendous potential we see from our exploration activities offshore Guyana. ExxonMobil, along with its partners, will continue to further evaluate opportunities on the Stabroek block."
Esso Exploration and Production Guyana Ltd. is operator and holds 45% interest in the Stabroek block. Hess Guyana Exploration Ltd. holds 30% interest and CNOOC Nexen Petroleum Guyana Ltd. holds 25% interest.
Pablo Medina, Wood Mackenzie's senior analyst, Latin America Upstream, said this latest discovery puts Guyana on the map as the country currently does not produce any oil.
"We expect around 350,000-400,000 b/d of oil production by 2026," said Medina, "making Guyana one of top oil producers in Latin America."
10/06/2017