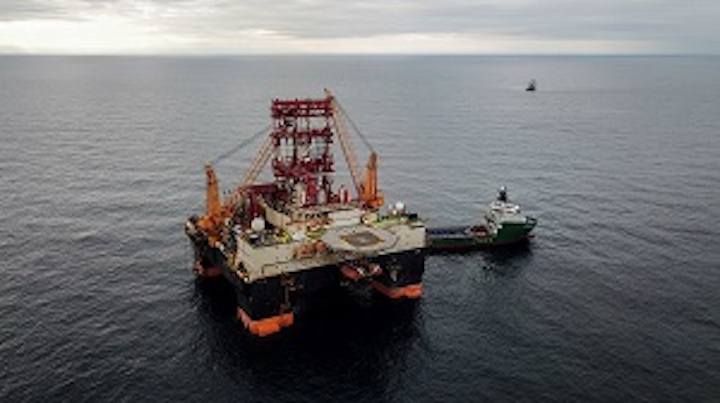 Offshore staff
MOSCOW – Saipem's semisubmersible Scarabeo 9 has spudded the Maria-1 exploration well, the first ever deepwater well in the Russian sector of the Black Sea, for the Rosneft/Eni joint venture.
Rosneft estimates in-place oil on the surrounding Zapadno-Chernomorskaya license area at more than 570 MM tons.
Preparatory exploration included the acquisition of more than 4,000 km (2,485 mi) of 2D seismic and more than 3,000 sq km (1,158 sq mi) of 3D seismic, and geotechnical surveys.
The designed well depth is 6,126 m (20,098 ft), with water depths exceeding 2,000 m (6,562 ft).
According to Rosneft, mobilizing the115 m (377 ft) tall rig, with an 80 m (262 ft) wide deck, was a complex operation. In September it sailed from Las Palmas in the Canary Islands, subsequently entering the Black Sea via the Bosphorus strait and arriving at the Romanian port of Constanta a month later.
The distance covered en route was more than 3,000 nautical miles.
The dynamically positioned rig features a dual derrick, allowing simultaneously casing and wellhead equipment assembly and running operations while drilling, which is said to cut well construction times by up to 30%.
To safeguard against environmental incidents, the rig's subsea capping system is equipped with seven BOPs.
Rosneft/Eni plans constant monitoring of sea environment condition, including satellite observations, during the drilling campaign. Well construction will be controlled by two subsea remotely-operated devices, Rosneft added.
"The Black Sea has significant oil and gas potential, but yet not a single well has been drilled in the deepwater Russian offshore," said Rosneft's CEO Igor Sechin. "Indicated geological traps are located at the areas with the sea depth exceeding 2,000 m…
"Upon completion of additional works and technical studies the company plans to refine and possibly increase the potential geological resources appraisal."
12/27/2017