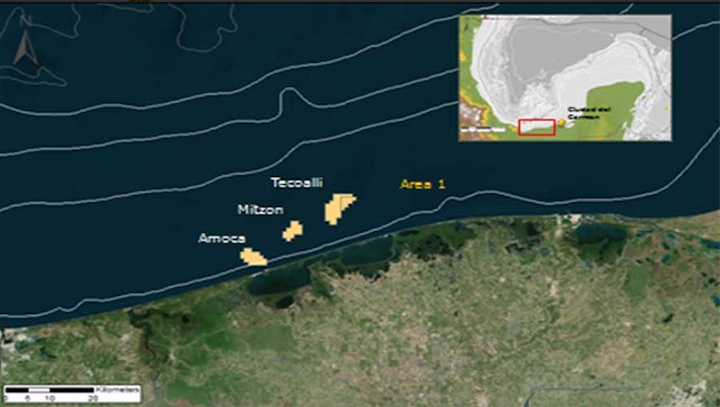 Offshore staff
SAN DONATO MILANESE, Italy – Eni has increased the in-place estimate for Area 1 offshore Mexico from 1.4 to 2.0 Bboe, of which about 90% being oil and the remaining associated gas.
This follows the results of the Tecoalli 2 well and the revision of the reservoir models of theAmoca and Miztón fields.
The Tecoalli 2 well, located in Contractual Area 1 in the Campeche Bay, is about 200 km (124 mi) west of Ciudad del Carmen, in 33 m (108 ft) of water depth.
The well reached a final depth of 4,420 m (14,501 ft) encountering approximately 40 m (131 ft) of net oil pay in the Orca formation, characterized by excellent quality sandstone reservoirs. The well was then deepened to the Cinco Presidentes formation exploratory target, finding further 27 m (89 ft) of net oil pay.
A production test will now be executed and then the well will be temporarily abandoned. The Tecoalli field is 24 km (15 mi) from the Amoca field and 13 km (8.1 mi) from the Miztón field.
Eni will soon submit the development plan (PoD) for Area 1 to the approval of the local authorities (Comisión Nacional de Hidrocarburos). As soon as the PoD is approved, Eni will sanction the development (FID), with production startup planned in first half 2019.
12/13/2017