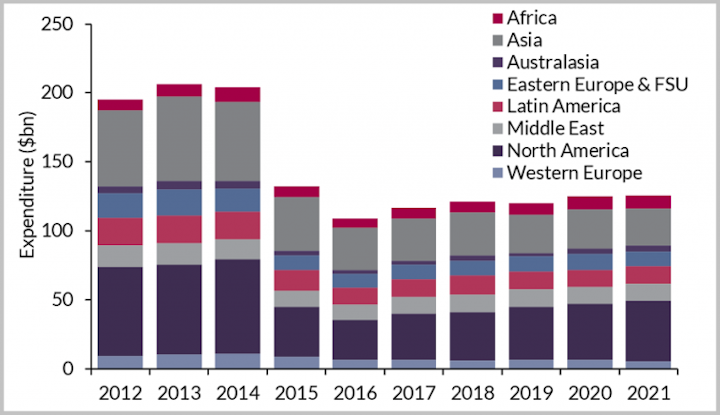 Offshore staff
LONDON – Westwood Energy's World Oilfield Equipment Market Forecast anticipates global expenditure of $608 billion between 2017 and 2021.
E&P-related spending accounts for $457 billion, 75% of the forecast total, and incorporate $1 billion for new fixed andfloating production systems.
Seventy floating production units now appear set to be installed over 2017-2021, compared to 62 in the 3Q edition of the report. However, the offshore rig market remains heavily oversupplied, with minimal ordering expected over the next few years.
Fewer jackups have been delivered in 2017 than originally expected, the analyst added, leading to reduced spending for this market.
Over the long term, however, Westwood foresees an improvement with orders picking up for high-specdeepwater rigs, due to the expansion of deepwater activity beyond the traditional 'golden triangle' areas of the mid-Atlantic into new frontiers.
On a negative note, the analyst forecasts a 3% annual decline in offshore expenditure during 2017-21, due to a significantly smaller pool of projects in the pipeline than in previous years.
12/06/2017