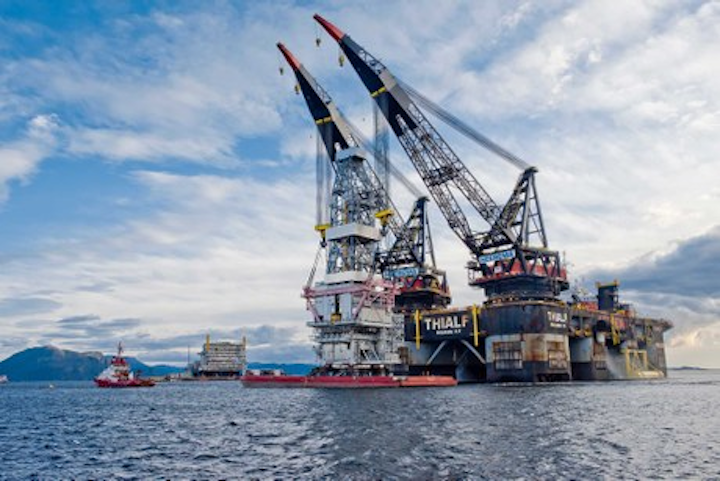 Offshore staff
HAUGESUND, Norway– Aibel has completed assembly of the three modules for the Johan Sverdrup drilling platform in Klosterfjorden, Norway.
This was one of the country's largest-scale inshore marine operations to date, the company claimed.
Earlier this monthHeerema Marine Contractors' crane vessel Thialf lifted the 10,250-ton heavy Main Support Frame (MSF), built at Aibel's yard in Thailand, on board the integration barge.
The following day, the Drilling Support Module (DSM), built in Haugesund and weighing around 8,000 tons, was lifted into place on top of the MSF.
Finally, the vessel lifted the 3,000-ton, 90-m (295-ft) high Drilling Equipment Set (DES), supplied by Aibel's partner Nymo in Grimstad, to provide one joined platform, which including the grillage was 147 m (482 ft) tall and weighing around 22,000 tons.
Following transportation to Aibel's yard in Haugesund, the structure will remain moored through the coming winter, while all installations are completed, and the equipment and systems are tested and verified.
Early next summer Aibel will hand over the platform deck toStatoil for subsequent delivery to the field location in the North Sea.
Aibel is also responsible for subsequent hookup of the platform at the field center, an operation that will involve up to 600 employees in rotation until summer of 2019.
09/19/2017