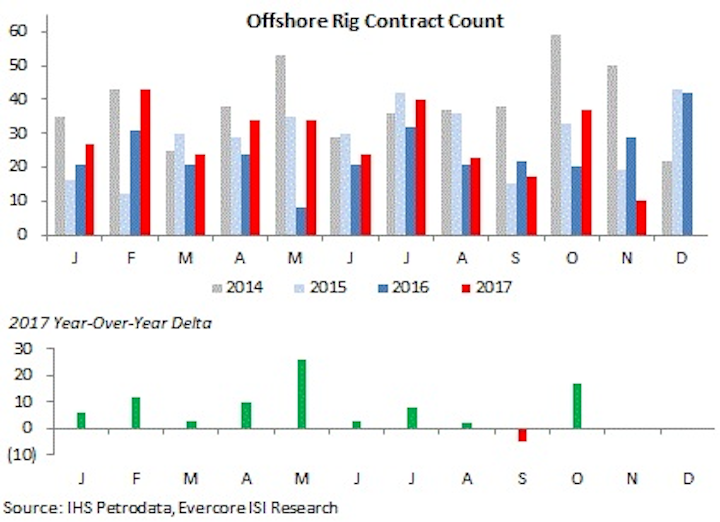 Offshore staff
NEW YORK CITY – Evercore ISI's most recent "Offshore Rig Market Snapshot" finds that global offshore drilling rig contracts have slowed in November after an active October.
Only 10 contracts had been confirmed by mid-November, tracking well below pace of almost 30 last November. The firm notes that the industry entered November with fewer rigs rolling over in the final two months of the quarter, as compared to a year ago.
Evercore says that it expects contracting activity to re-accelerate in 1Q 2018 as 40 jackups and 17 floaters are scheduled to roll off contract.
Meanwhile, the industry was busy finalizing 37 contracts last month (24 new mutual, two priced sublets, seven priced options, and four priced contract), more than doubled the prior month and year ago totals.
All but one of the 11 term contracts were for jackups, with six going to the Middle East, two to Trinidad, and the balance to Southeast Asia and Angola. Overall, jackup contracts accounted for 60% of rig demand and contracts averaged almost a year long, versus floaters at four months.
The report also noted that the industry scrapped two jackups and two floaters over the past month, increasing the year-to-date total to 11 and 24, respectively. Contractors have now matched the 24 floaters scrapped last year, bringing the total to 93 since the downturn began in 2014, but jackups continue to lag newbuild additions with overall rig supply up 6% over the past four years.
Evercore says that of the four scrapped units over the past month, three came from the cold-stacked pool. There remain 15 floaters and 64 jackups cold-stacked for at least two years that are candidates for retirements, but this could be a sign that shallow-water operators are accelerating rig attrition as rigs come off contract.
11/27/2017