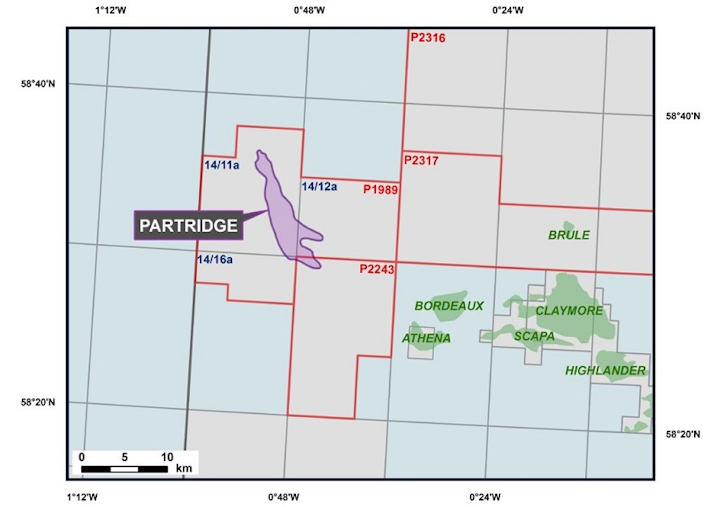 Offshore staff
LONDON – The semisubmersible Ocean Guardian has spudded the 14/11a-2 well on the Partridge prospect in the UK central North Sea for operator Azinor Catalyst.
The well should take around 30 days to complete and will be drilled to a depth of 2,450 m (8,038 ft) TVDSS.
Catalyst then expects to mobilize the rig to theViking Graben to prepare for a second well, designed to appraise the Agar discovery. This program will also include a side track to test the Plantain prospect.
Catalyst pre-drill recoverable estimate for Partridge is in the range of 119-260 MMboe.
The company acquired a 100% operated interest in blocks 14/11a, 14/12a and 14/16a, containing Partridge, in December 2015. The structure has a relatively shallow and normally pressured reservoir and is located in the Jura Sub-basin of the Outer Moray Firth off eastern Scotland, adjacent to the Scapa, Claymore, and Athena oil fields.
Partridge is a large, structurally controlled, stratigraphic trap comprising deepwater mass flow sands of the Lower Cretaceous Scapa Sandstone Member, and has an associated direct hydrocarbon indicator. This seismic signature is thought to be analogous to the one observed in the Lower Cretaceous sands at Scapa and Claymore.
Catalyst has a 50% interest in blocks 9/9d and 9/14a in the South Viking Graben, which contain Agar and Plantain. The company discovered Agar in 2014 with the 9/14a-15A exploration well which encountered a 33-ft (10-m) column (oil-down-to) in good-quality Eocene Frigg Formation sands.
These two prospects could hold in the range of 60-98 MMboe. They are roughly 12 km (7.5 mi) east of Apache's Beryl field and 14 km (8.7 mi) west of Aker BP's Alvheim hub in Norwegian waters.
08/15/2017