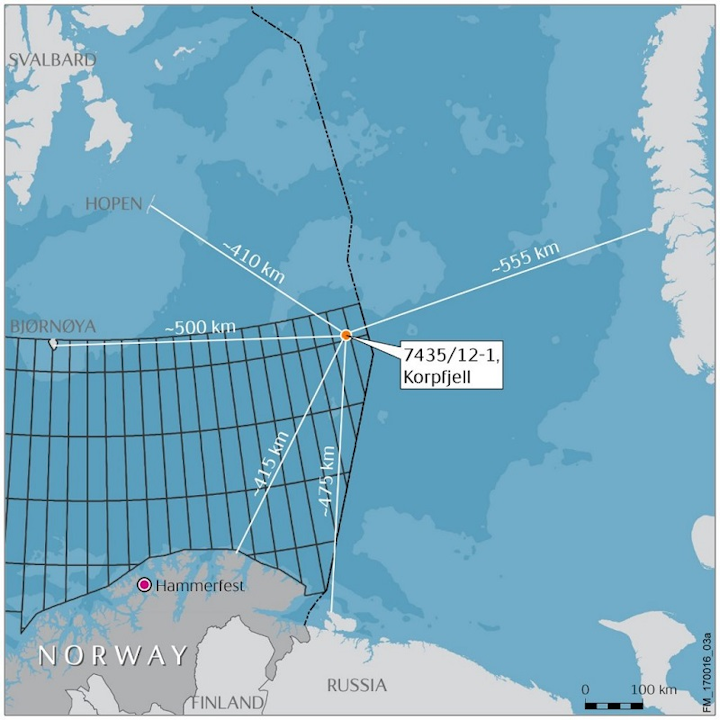 Offshore staff
STAVANGER, Norway – Statoil's big oil plans for the Barents Sea have suffered a further setback, with the frontier Korpfjell well delivering sub-commercial gas.
This was the first exploration well drilled by the industry in the newly opened southeastern sector of the Norwegian Barents Sea, 420 km (261 mi) from the Norwegian mainland and 35 km (21.7 mi) from the maritime median line with Russia.
Jez Avery, Statoil's head of exploration for Norway and the UK, downplayed the result. "We have all the time pointed out the high level of geological uncertainty related to Korpfjell," he said. "The main question was whether we would find anything at all – and if we did, would it hold gas or oil.
"Korpfjell is a structure of a size seldom seen on the Norwegian continental shelf and has attracted much interest, and the results of the first well in this frontier area of the Barents Sea have triggered broad and strong expectations. For this reason, it has been important to us to complete this drilling."
The semisubmersibleSonga Enabler drilled well 7435/12-1 on license PL859 in 253 m (830 ft) water depth, finding gas in the Stø formation. Statoil estimates volumes at 40-75 MMboe, insufficient for a standalone development in this remote region.
Averty continued: "It is important to remember that you rarely succeed on the first try in a frontier area. Thirty-three wells were drilled before the first commercial discovery was made in the Norwegian section of the North Sea.
"Even if we have learned a lot since 1969, we do not expect the first exploration well to give all the answers. We need further exploration to find out what this implies for the total resource potential of the Barents Sea southeast area."
Statoil plans further wells in the southeastern area next year, operated and partner-operated, including a second commitment well in the Korpfjell license.
TheSonga Enabler will next drill the Koigen Central prospect for Statoil in PL718 in the western part of the Barents Sea.
Alex Schneiter, CEO and president ofLundin Norway, a partner in the Korpfjell well, said: "While the results…are not what we hoped for, it is the first well to be drilled in the southeastern Barents Sea and more exploration will be needed to understand the potential of this area.
"Further drilling is expected to take place in 2018 in PL859 to test additional prospectivity. Additionally, a well is being planned next year on the large Signalhornet prospect in PL857, located some 300 km [186 mi] south of Korpfjell.

"We are also drilling three further high impact exploration wells on the Loppa High and Filicudi trends in the southern Barents Sea before the end of the year, and so we remain excited about the significant exploration potential in the area."  
08/29/2017