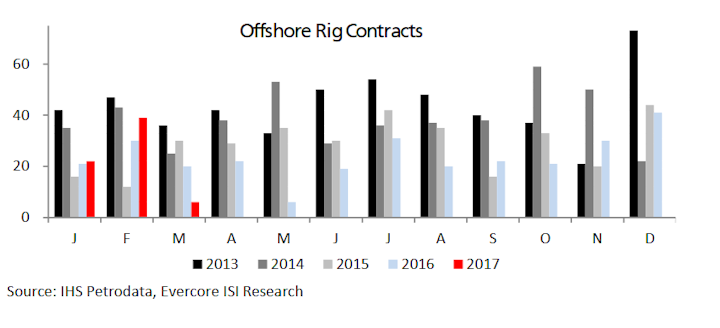 Offshore staff
NEW YORK– Evercore ISI has released its Offshore Rig Market Snapshot for March, wherein the analyst firm's Oilfield Services, Equipment & Drilling group examines trends in contracting activity and day rates, fleet operations, and near-term contract coverage.
A total of six new contracts have been announced so far this month, Evercore found, down from 11 at this point last month.
Of the 28 jackups contracted last month, 12 were for more than one year, while only one of 11 floater contracts was for more than a year. National oil companies continue to drive jackup demand, with Saudi Aramco signing two term contracts (Arabdrill 60, Ensco 54) and PEMEX renewing five SeaMex rigs.
Thus far in March, only one jackup has been secured for at least a year, with RasGas signing Gulf Drilling'sAl-Jassra for work offshore Qatar.
Rig contractors retired one jackup (Ensco 94) over the past month, bringing the total to four year-to-date and 38 since 2014. Diamond's Ocean Spur is also expected to be scrapped soon, while Transocean's Rig 105 is held for sale.
Meanwhile, one jackup (PPL Shipyard'sP2053) and two floaters (Seadrill's West Dorado and Draco) previously scheduled to be delivered in 2017 have been deferred to 2018 over the past month. The analyst expects the number of newbuild deferrals to grow in the coming months, as only three of 13 newbuild floaters are contracted (excluding seven for Petrobras) and four of 38 jackups are contracted.
Contract coverage for 2017 improved by 30 basis points (bps) to 39% for the global floater fleet and by 110 bps to 39% for the global jackup fleet. Within Evercore's coverage universe, it says Ensco led with a 730 bps improvement to its 2017 jackup coverage to 53% from five new contracts, followed by Rowan's +580 bps to 50% and Vantage's +360 bps to 37%.
On the floater side,Seadrill led with a 490 bps improvement to its 2017 coverage to 48% with new one-well contracts for the West Saturn and Capella, followed by Ensco's +210 bps to 33% and Pacific Drilling's +200 bps to 21%. Seadrill's 48% 2017 floater coverage leads the group average of 29%, while Noble leads on the jackup side at 79% versus the group average of 40%.
Meanwhile, theOcean Rig Athena, Paragon M825, and Rowan California are newly cold stacked.
03/17/2017