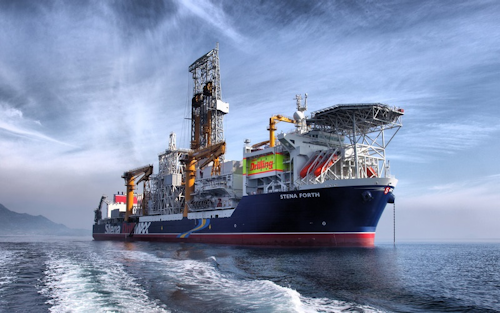 Offshore staff
TORONTO – The partners in the Orinduik block offshore Guyana have contracted the drillship Stena Forth for their first exploration well.
After completing its current program offshore West Africa, the rig is set to spud the well on the 250-MMbblJethro-Lobe prospect in June, close to and up-dip from numerous discoveries in the deepwater Stabroek block and in the same proven resource intervals.
According to one of the block partners Eco (Atlantic) Oil and Gas, the agreement with contractor Stena also defines a window for a second well after Jethro-Lobe has been drilled.
The Tullow Oil-led partnership has already secured or ordered long-lead items for two wells, including wellheads from DrilQuip and casings, and is currently negotiating support vessel and infrastructure arrangements.
The partnership expects to formalize plans for the second well in the next few weeks.
TheStena Forth, Eco Atlantic added, was its preferred choice because of the vessel/crew's previous experience of operating in a similar drilling environment, and because of Stena's understanding of the operating requirements.
Colin Kinley, Eco Atlantic's COO, said: "While the Jethro-Lobe is a Tertiary target, which we believe is similar to theExxon Hammerhead discovery that appears to extend onto Orinduik, we will also drill down to test the Cretaceous section below Jethro."
02/20/2019