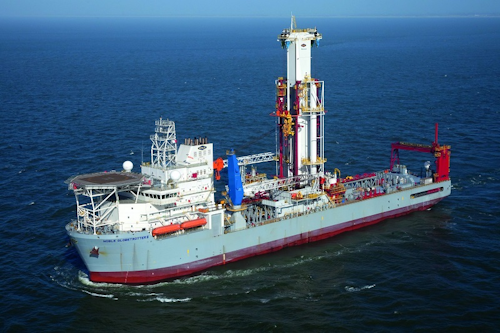 Offshore staff
SCHIEDAM, the Netherlands – Noble Corp. and Huisman have completed testing of a new designed automatic tripping system (autotripping) onboard the drillship Noble Globetrotter II.
According to Huisman, the system enhances the efficiency and safety of the vessel's drilling process. During the tests, the system's performance was proven by tripping 30,000 ft (9,144 m) of drill pipe, and operations were possible even with wave heights of up to 6 m (19.7 ft).
Autotripping allows for fully automated tripping in and out cycles including all related equipment, with pipe rackers, setback drums and drawworks controlled in parallel, leading to a 24% increase in operational efficiency.
During tripping, Huisman added, the driller can focus entirely on the drilling process and can choose which steps are confirmed before tripping continues.
It is also possible to halt the system quickly and safely via a single touch of the joystick, while pipe detection sensors can be used to further improve the speed, reliability, and safety of the operation.
No personnel are needed during autotripping operation, leading to improved safety on the rig floor.
The Huisman-developed automatic pipe tally system defines the order of drill pipe to be run in or out of the hole.
It tracks the position of all pipes in the drill system and shows data of the tripping process. This, the company claims, results in a 100% accurate drillstring tally in real time at multiple locations on the rig.

05/09/2019