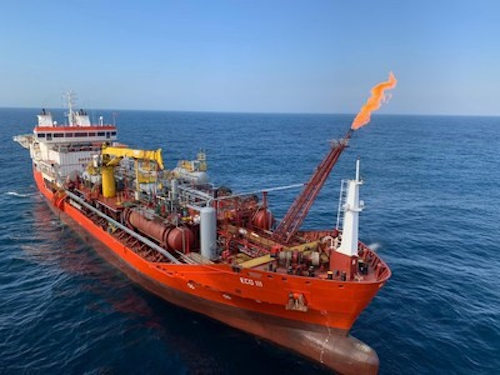 Offshore staff
HOUSTON – Appraisal drilling continues on the shallow-water Zama oil discovery in block 7 in the Sureste basin offshore Mexico.
According to operatorTalos Energy Inc., the Zama-2 ST1 well was the second of three appraisal penetrations designed to firm up the resource potential.
The main aims were to test the northern limits of the reservoir, acquire a whole core to assess rock properties, and to perform a well test in several perforated intervals.
Zama-2 ST1 well was drilled 589 ft (180 m) updip of theZama-2 appraisal well and 1.4 mi (2.1 km) north of the Zama-1 discovery well.
During drilling, the well logged 873 ft (266 m) of gross TVD pay, which was within expectations for the field's northern extension, also confirming a net-to-gross ratio range of 68%-73% through multiple penetrations. In addition, the 714 ft (217 m) of whole core with 98% recovery was the longest ever acquired in a single well offshore Mexico, Talos claimed.
The well was cased and perforated totaling 248 gross ft (75.6 m) of perforated section with variable rock properties. Two separate test flowed hydrocarbons without stimulation, delivering a combined rate of 7,900 boe/d, of which 94% was 26-30 API° oil, and 6% gas.
The operation to side track from the Zama-2 location, drill, core and reach a TD of 11,643 ft (3,549 m) of MD concluded nine days ahead of schedule and 16% below budget, and the well test too finished ahead of schedule and more than 30% below budget.
TheEco III, A Mexican-flagged floating storage and production vessel, was used for the flow test.
Talos President and CEO Timothy S. Duncan said: "The coring operation allowed us to gather important rock samples, which indicate excellent rock properties with similarities to world-class reservoirs in the United States Gulf of Mexico.
"The production rate of 7,900 boe/d from two zones in a very simple rate-restricted test over only a portion of the total pay column confirmed our expectations that the Zama wells will provide exceptional productivity. The tests also confirmed our geologic model of well-connected reservoirs, which should allow for a high ultimate oil recovery.
"Given the water depth of approximately 550 ft (168 m), we believe that a combination of fixed platforms, dry trees and short-cycle development wells will maximize both capital efficiency and optionality with regard to how many total wells and completions per well will be necessary to maximize recovery. Also, given the deliverability of the perforated intervals demonstrated in the flow test, we believe a peak production rate between 150,000-175,000 boe/d is achievable."
Next up will be the Zama-3 appraisal well at a location south of Zama-1, designed to assist delineation of the reservoir continuity and quality in the southern part of the field and to provide an additional core in order to further understanding of the reservoir geology.
Duncan added: "Concurrently, we are working with Petróleos Mexicanos (Pemex) on unitization prior to submitting a development plan to the regulator. Our goal is to reach final investment decision and first production as soon as possible."
04/16/2019