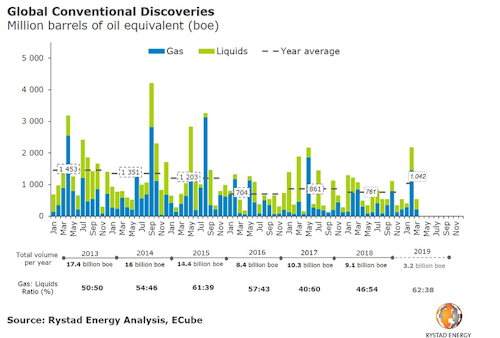 Offshore staff
OSLO, Norway – Rystad Energy estimates a further 35 high-impact exploration wells will be drilled offshore and onshore this year.
Three are already under way: The Shell-operated Peroba well offshore Brazil, with a prospective resource estimate of 5.3 Bboe; Eni's deepwater Kekra well off Pakistan (a potential 1.5 Bboe resource); and Total's well on the 2.7-Bboe Etzil prospect offshore Mexico.
"If these wells prove successful, 2019's interim discovered resources will be the largest since the downturn in 2014," said Taiyab Zain Shariff, Upstream Analyst at Rystad.
Global discoveries of conventional resources during 1Q 2019 totaled 3.2 Bboe, most of the gains being recorded in February, when 2.2 Bbbl were notified, the best monthly figure Rystad has recorded since August 2015.
"If the rest of 2019 continues at a similar pace, this year will be on track to exceed last year's discovered resources by 30%," Shariff added.
ExxonMobil led the way with three significant offshore finds that collectively account for 38% of the discovered volumes. Then came Total and Eni with offshore successes in South Africa, the UK, Angola, and Egypt.
04/08/2019