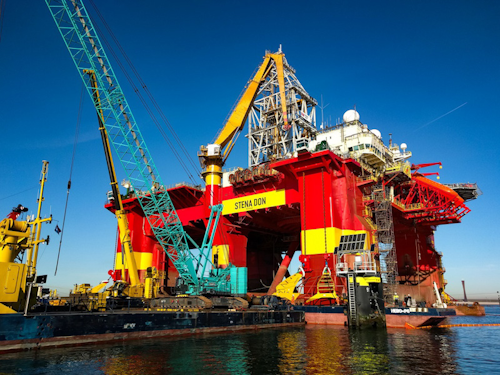 Offshore staff
GORINCHEM, the Netherlands– Damen Verolme Rotterdam (DVR) has completed a major refit of the Stena Drilling semisubmersible Stena Don.
The vessel arrived at DVR in October 2018 and departed for a contract for Total off the UK's Shetland Islands in February 2019.
The most significant aspect of the works was the installation of an eight-point mooring system. By using this for holding position, emissions will be significantly reduced and substantial savings on fuel costs will be made, DVR said. The upgrade also enables the rig to work in shallower waters than before.
DVR said that it began preparations for the installation of the new mooring system well before theStena Don arrived at the yard. Various elements of the system were manufactured by Damen in advance including the anchor chain lockers and sponsons. Weighing 1,200 metric tons they were fabricated at Damen Shipyards Mangalia before being shipped to Rotterdam.
Other key components included eight anchor winches and the fairleads plus the winch control cabins, new VFD switchboards and brake resistor units. The eight ultra-high-holding power anchors were delivered by Damen Anchor and Chain Factory.
In addition to installing the mooring system, the yard also strengthened the hull to comply with the new regulations regarding the mitigation of wave impact forces. The extra weight required the fitting of two additional sponsons. The POB capacity was also upgraded from 120 to 140 persons on board. This included the fabrication and installation of two triple lifeboat systems.
On Feb. 18, theStena Don exited the yard for the reinstallation of its six DPS thrusters in the deepwater of the Port of Rotterdam's Maasvlakte. The official handover to Stena Drilling followed on Feb. 26, in line with the original schedule. The following day she departed for Bergen for inclination tests and additional assessments prior to starting work off the Shetland Islands.
Jan Kees Pilaar, managing director of DVR, said: "This was a major project with limited time available, with its challenges. It was effectively a turn-key project with DVR handling every aspect including the detailed engineering. However, we knowStena Don from previous projects and have an excellent working relationship with Stena Drilling so the combination of familiarity with the vessel and the support of different specialist units within the Damen Group ensured a successful conclusion."
TheStena Don, a harsh environment, dynamically-positioned, fifth-generation semisubmersible drilling rig, can drill in waters up to 650 m (2,132 ft). Built by the Kvaerner Warnow Werft Shipyard in Germany in 2001, the rig is 95.5 m (313 ft) in length with a beam of 67 m (220 ft).
This was the drilling rig's fourth visit to the DVR site. Its most recent stopover in July 2015 when it came in for a special periodical survey and a mid-life upgrade.
03/26/2019