Cairn details North Sea area drilling targets
Cairn Energy has a line-up of four exploration wells offshore the UK and Norway this year.
Mar 12th, 2019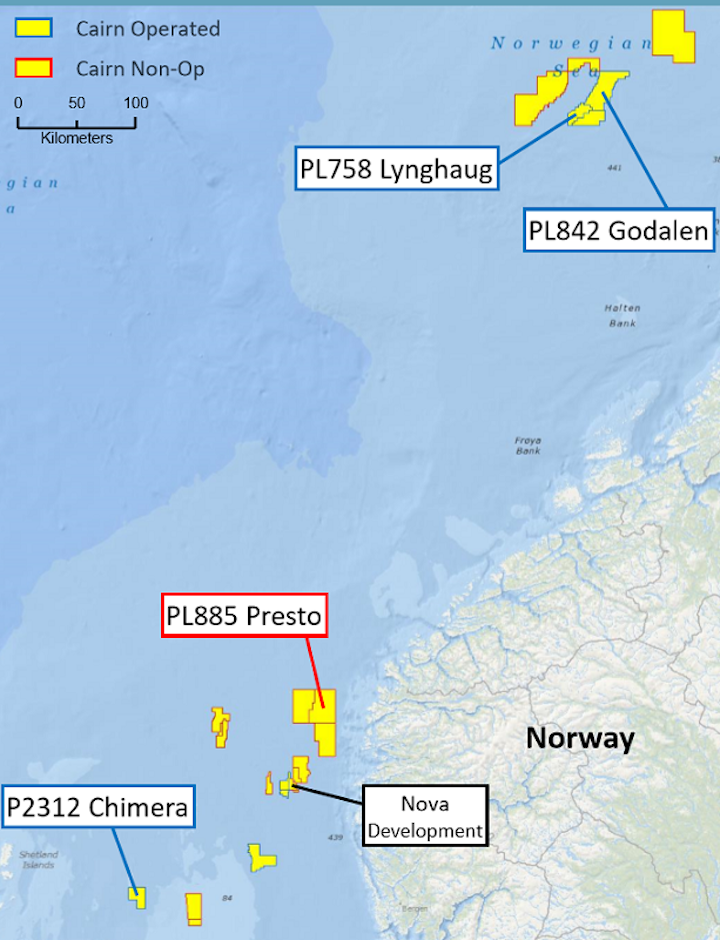 Offshore staff
EDINBURGH, UK – Cairn Energy has a line-up of four exploration wells offshore the UK and Norway this year.
The first, operated by Equinor, is under way on thePresto prospect in license PL885 in the Norwegian North Sea, using the semisubmersible Transocean Spitsbergen.
During 3Q, Cairn expects to spud its first operated well offshore Norway on the Lynghaug prospect in PL758, with the semisubTransocean Arctic. A success here could open further opportunities along the Nordland Ridge.
Both the other wells should start drilling in 4Q. One will be on the Godalen structure in PL842, again with theTransocean Arctic.  
The other, around the same time, will target the Chimera prospect in license P2312 in the UK North Sea. Cairn recently farmed out a 40% stake to Suncor Energy UK but has retained operatorship.
Production from the company's Kraken heavy-oil field in the UK northern North Sea averaged 30,300 boe/d last year, below expectations, with various technical and weather-related programs and a higher water-cut than had originally expected.
Cairn is working with operator EnQuest and the FPSO contractor to improve the vessel's uptime with a shut-down scheduled later this year.
Following a review of the reservoir performance, Cairn has lowered its estimate of Kraken's 2P reserves, resulting in an impairment of $166.3 million in the carrying value of the asset.
EnQuest responded to this news by stressing that it employs different technical approaches to Kraken production forecasting in preparing reserve profiles for its auditors, and that explains the discrepancy in the two companies' reserves estimates. So, it does not expect to recognize any impairment charge related to the field in its 2018 results.
Cairn also stated that the partners were assessing potentially new drilling opportunities in the Kraken area in 2020.
In the UK central North Sea, the company is working with theCatcher area joint venture on in-fill drilling and near-field opportunities to extend plateau production through the FPSO.
They have committed to drill an additional producer well next year on the Varadero field and have additional optional rig slots for two further wells.
03/12/2019