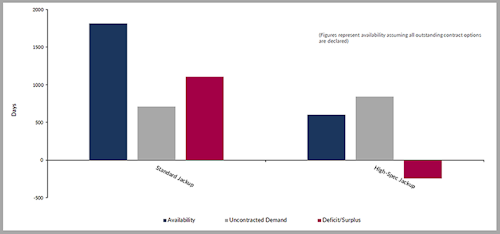 Offshore staff
LONDON – The mobile offshore drilling unit market has recovered across northwest Europe, especially offshore Norway, according to Westwood.
This is due to a combination of a more stable oil price, higher development and exploration and appraisal (E&A) activity, and various older rigs being permanently removed from the fleet.
As a result, day rates have risen, most notably for sixth-generation Norwegian semis which are now commanding some of the highest rates worldwide.
Although much of the capacity for campaigns in the region this year has already been secured, Westwood Intelligence's analysis reveals that there are still 3,808 days of unfulfilled rig demand for 2019, i.e. operators with drilling plans but no rig.
However, there are currently 6,066 days of available rig time so this should not be an unsurmountable problem.
There appears to be ample standard jackup supply to cover the remaining 710 days of unfulfilled demand for the rest of the year. Much of this demand relates to P&A work in the UK southern North Sea.
Uncontracted demand forhigh-spec jackups totals 841 days: taking into account free rig time the undersupply is estimated at 241 rig days this year.
As a result, said Teresa Wilkie, Senior Analyst, Rigs & Wells at Westwood, operators may struggle to secure a more modern and capable jackup in 2019. The main requirements for rigs in this category are for E&A and development drilling programs offshore the UK, Norway, the Netherlands, and Denmark.
Operators appear to favor premium assets in northwest Europe, in particular deeper rated, more modern rigs that provide winterization, greater drilling efficiencies and less downtime that will help lower project costs.
Somedrilling contractors have as a result secured high-price contracts for rigs previously located outside of the region, including newbuilds still in Asian shipyards. Others such as Diamond Offshore, Wilkie added, have reactivated older, cold-stacked rigs for mid-to-long-term campaigns in the area.
As rig availability continues to contract during the prime spring and summer periods, offshore operators will have little choice but to commit to programs during the harsher winter months, she suggested. Jackup and floating rig use is set to keep increasing throughout the year, resulting in further upward movement in day rates, especially in the undersupplied UK and Norwegian sectors.
Westwood foresees day rates for the Norwegian semi market fixed at more than $300,000, with deepwater floaters in the UK sector on rates above $200,000/d, compared with the recent range of $120,000-160,000.
One instance is Premier Oil's recent signing of the semiTransocean Leader at a rate of $245,000/d for a UK campaign starting in early 2020.
03/04/2019