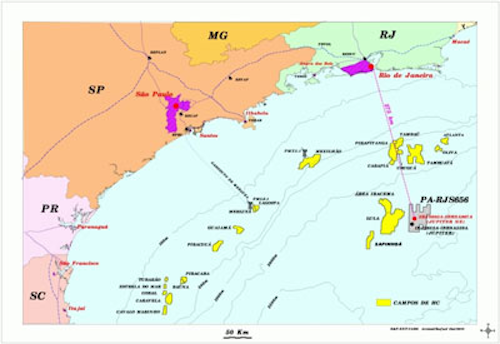 Offshore staff
RIO DE JANEIRO –Petróleo Brasileiro S.A. says preliminary drilling results of well 3-BRSA-967A-RJS (3-RJS-683A), informally known as Jupiter Nordeste, confirm the presence of natural gas and condensate.
The well, 7.5 km (4.6 mi) from the Jupiter discovery well (1-BRSA-559A) in the offshore Santos basin in 2,151 m (7,057 ft) water depth, continues drilling below 5,438 m (17,841 ft). It reports an oil column of 176 m (577 ft).
Petrobras is the operator (80%) of block BM-S-24, in partnership with Petrogal Brasil (20%), and plans to continue the appraisal under the plan approved by the National Petroleum, Natural Gas and Biofuels Agency.
10/10/2012