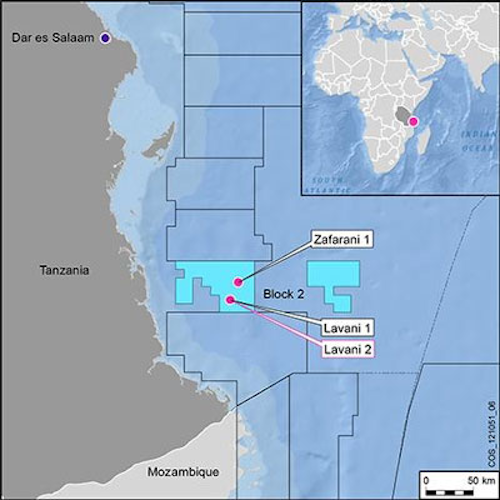 Offshore staff
STAVANGER, Norway –Statoil's Lavani 2 exploration and appraisal well offshore Tanzania has a new gas discovery.When deepening the well from the initial Paleogene reservoir to the second target, a separate and significant gas bearing reservoir in the Cretaceous was encountered.
The Lavani-2 well was drilled to TD of 5,270 m (17,286 ft) in water depths of 2,580 m (8,462 ft). The well was drilled byOcean Rig Poseidon. The Lavani-2 well is about 5 km (3 mi) southeast of the Lavani-1 discovery well and 20 km (12½ mi) south of the Zafarani-1 well.
Statoil operates the license on block 2 on behalf of Tanzania Petroleum Development Corp. and has a 65% working interest, with ExxonMobil Exploration and Production Tanzania Ltd. holding the remaining 35%.
"The Lavani-2 well tested the deeper Saffron target and this new discovery looks promising," said Nick Maden, SVP, International Exploration. "The next well will be the appraisal of the Zafarani discovery. In parallel the venture isacquiring new 3D seismic to help us identify additional targets in block 2."
12/21/2012