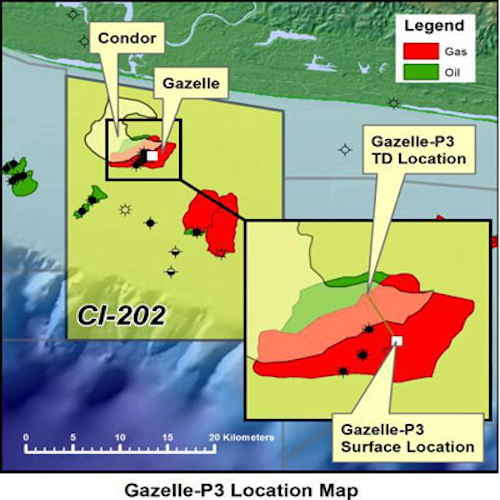 Offshore staff

SYDNEY, Australia –The jackup Transocean GSF Monitor has started drilling the Gazelle-P3 production well for Rialto Energy on the CI-202 block off Côte d'Ivoire. The location is on the northern flank of the Gazelle structure, 43 km (26.7 mi) southwest of Abidjan.

The well is due to reach a TD of 3,400 m (11,155 ft) MDRT and should require 60-70 days to drill and test. This is the first of athree-well campaign on the block which should take six months to complete, including testing.

Gazelle-P3, which is being drilled from the Gazelle subsea template, is designed as a deviated hole targeting oil in already tested sands over the Upper Cenomanian reservoirs. It will also be deepened to test a potential gas prospect, Condor, and a combination structural/stratigraphic trap in the Lower Cenomanian not previously drilled.

Assuming a success, the second well will appraise Condor, while the third well in the program will target the Chouette exploration prospect, 13 km (8 mi) from the Gazelle template.

Rialto has a gas memorandum of understanding with the government of Côte d'Ivoire, and appraisal drilling success will allow development ofGazelle to move forward, leading to a production start by end-2013.

Initial production rates should be 8,000 b/d of oil and 100 MMcf/d of gas.

3/13/2012