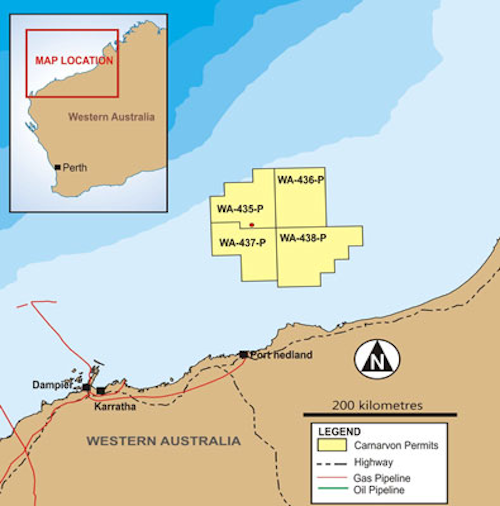 Offshore staff
WEST PERTH, Australia – The semisubmersible Atwood Eagle has spudded Apache's Phoenix South-1 well on the WA-435-P permit offshore Australia's North West Shelf.
According to partner Carnarvon Petroleum, the chief target is the interbedded sandstones, siltstones, and claystones of the Early to Middle Triassic Lower Keraudren formation and underlying Locker Shale, from around 3,600 m (11,811 ft) subsurface onward.
ThePhoenix-1 well discovered gas in two of these sandstone packages around 13 km (8 mi) north of current well's location. The partners expect drilling to intersect multiple reservoir/seal pairs.
If hydrocarbons result, they plan extensive wireline logging, pressure and fluid sampling, and collection of reservoir core samples.
Drilling is expected to last 60-70 days including logging and testing operations. Total depth could extend to 5,000 m (16,404 ft) depending on the presence of gas below 4,500 m (14,764 ft).
Other partners are JX Nippon and Finder Exploration.
05/27/2014