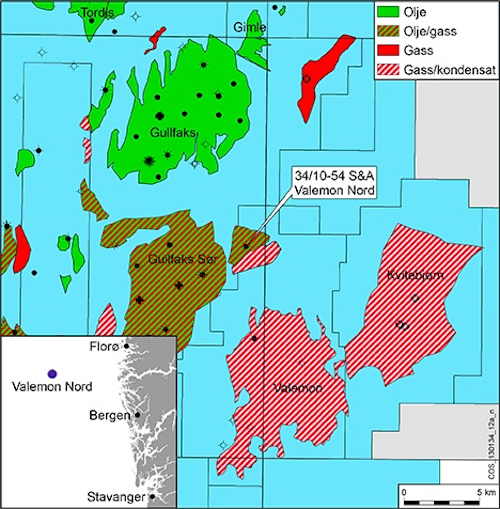 Offshore staff
STAVANGER, Norway -- Statoil has discovered oil and gas in the Valemon Nord prospect in the Norwegian North Sea.
Semisubmersible drilling rigTransocean Leader drilled wells 34/10-54 S and 34/10-54 A 10 km (6.2 mi) north of the new Valemon field platform which is due to come onstream in Q4 2014.
Main wellbore 34/10-54 S proved a 164-m (538-ft) gas/condensate and oil column in the mid-Jurassic Brent Group. Subsequent side track 34/10-54 A encountered a 100-m (328-ft) gas/condensate column in the Brent Group and in sand of unspecified Jurassic age, and a 140-m (459 ft) gas/condensate column in the Statfjord Group.
Drilling also revealed gas/condensate in the Mid-Jurassic Cook formation. Statoil estimates volumes recoverable at Valemon North in the range of 20-75 MMboe.
The reservoir is complex and fragmented, with varying pressures and high temperature, the company added.
Themain Valemon field, discovered in 1985, is thought to hold around 206 MMboe recoverable. Statoil has commissioned a fixed platform, with produced rich gas to be exported to the Heimdal offshore complex and condensate to Kvitebjørn.
4/11/2014