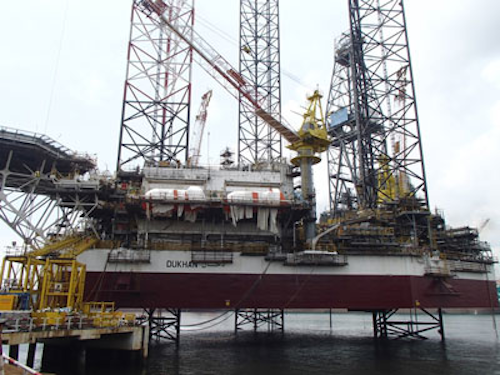 Offshore staff
DOHA, Qatar – Qatar Petroleum has contracted Gulf Drilling International's newbuild jackupDukhan for five years of drilling service offshore Qatar.
The rig will be delivered from Keppel Fels Shipyard in Singapore later this year and start work for QP in the fall. The contract value is QR 1.275 billion ($350 million).
According to the drilling contractor, the rig has been customized to allow it to work anywhere offshore Qatar.
Features include a 15,000-psi (1,034-bar) choke system to facilitate well control and drilling wells down to 30,000 ft (9,144 m); a cantilever that can skid out 75 ft (23 m) from the edge of the hull to drill wells; offline stand building; and 7,500-psi (517-bar) mud pumps.
The rig includes accommodation for 150 personnel.
06/27/2014