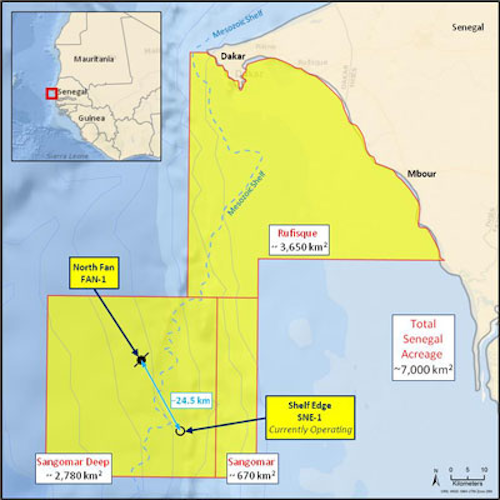 Offshore staff
EDINBURGH, UK – Cairn Energy has a second deepwater oil discovery offshore Senegal.
TheSNE-1 well, which is still drilling, is in 1,100 m (3,609 ft) of water in the Sangomar Offshore block, around 100 km (62 mi) offshore Senegal.
Logging has confirmed hydrocarbons in the Cretaceous clastics target, of a similar age to oil-bearing sands 24 km (15 mi) away in the earlierFAN-1 discovery.  
Cairn's initial analysis of SNE-1 suggests the well has intersected a 95-m (311-ft) gross oil-bearing column with a gas cap, with net pay of 36 m (118 ft) of 32° API crude. Contingent resources could range from 150-670 MMbbl recoverable.
The well has yet to reach the deeper target of karstified and fractured lower Cretaceous shelf carbonates. Analysis of results from both discoveries will be used to determine locations for follow-up wells targeted for 2015 onward. ​
Cairn Energy CEO Simon Thomson said: "This is a significant oil find for Cairn and Senegal and based on preliminary estimates is a commercial discovery and opens a new basin on the Atlantic Margin."
Cairn has a 40% operated interest in the Sangomar Deep, Sangomar Offshore and Rufisque blocks offshore Senegal, in partnership with ConocoPhillips, FAR Ltd., and Petrosen.
11/10/2014