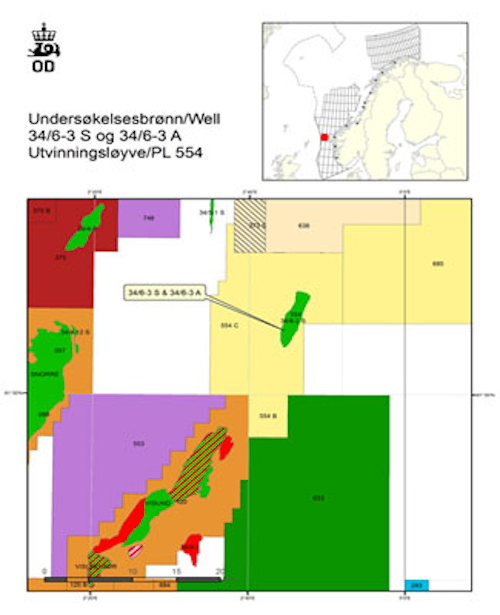 Offshore staff
TRONDHEIM, Norway – Total has successfully appraised the Garantiana oil discovery in the Norwegian North Sea, according to partner Det norske oljeselskap.
The semisubmersibleLeiv Eiriksson drilled well 34/6-3S in 381 m (1,250 ft) of water in license PL554, 2 km (1.2 mi) southwest of the discovery well. It intersected a gross oil column of 120 m (393 ft) in the Cook formation with good reservoir quality, but did not establish the oil/water contact.
During formation testing, the well flowed 940 cu m (33,196 cu ft) of stabilized oil per day through a 24/64-in. choke, with a low gas/oil ratio. A subsequent side track on the Akkar prospect encountered a 12-m (39-ft) net oil column in the Cook formation, but was not formation tested.
Based on the results, Det norske estimates resources in the license at 40-90 MMboe.
Leiv Eiriksson will next drill wildcat well 35/9-12 S in PL 420 in the northeastern Norwegian North Sea for RWE Dea.
Det Norske says the newbuild jackupMaersk Interceptor for its Ivar Aasen development has been delivered from Keppel FELS in Singapore. The rig, which has been contracted for five years, is the world's largest jackup, according to Det norske, with a leg length of 206 m (676 ft).
It is designed for year-round operation in theNorth Sea, in water depths up to 150 m (492 ft). Features include dual pipe handling and a fully remotely-operated pipe handling system that allows standard operations such as stand building and tripping to be conducted without personnel on the drill floor.
11/03/2014