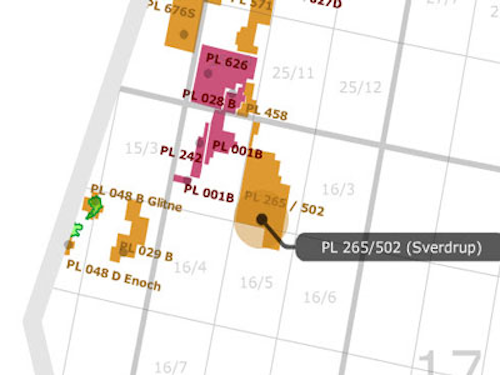 Offshore staff
TRONDHEIM, Norway – Statoil's appraisal well on the Geitungen structure has delivered oil, according to partner Det norske oljeselskap.
Well 16/2-19 was drilled on the northern margin of the Johan Sverdrup field in license PL265 in the central Norwegian North Sea.
It encountered a 4.5-m (14.7-ft) gross oil column thought to represent the Statfjord formation. The partners have agreed to drill a side track 1,000 m (3,281 ft) to the southwest to clarify the northern extent of the Johan Sverdrup main reservoir of the Draupne formation sandstones.
Lundin Norway has completed twoappraisal wells on Johan Sverdrup in adjoining license PL501.
The semisubmersibleBredford Dolphin drilled well 16/3-8 S on the Avaldsnes High, 4 km (2.5 mi) southeast of discovery well 16/2-6, with the aim of testing the thickness and quality of the late Jurassic Draupne sandstone reservoir and the Permian Zechstein carbonates.

The well encountered an oil-filled reservoir comprising 13 m (42.6 ft) of late Jurassic Draupne sandstone. A drillstem test flowed 4,900 b/d of oil through a 52/64-in. choke, and revealed that some of the best reservoir quality is in the central area of the Avaldsnes High with permeability of 65 darcy and no flow restrictions within a 3-4 km (1.8-2.5 mi) radius of investigation.
Ashley Heppenstall, president and CEO of Lundin Petroleum, said: "The test results from this well are as good as anything previously encountered on the Norwegian continental shelf. Prior to drilling this well there was a risk that the good-quality Volgian reservoir thinned out or even disappeared on the Avaldsnes High area of the Johan Sverdrup field. This well has proven that this is certainly not the case and the Volgian reservoir is contiguous over this area."

Bredford Dolphin now heads to PL484 in the Norwegian Sea to drill wildcat well 6608/10-16 for Noreco.
03/27/2014