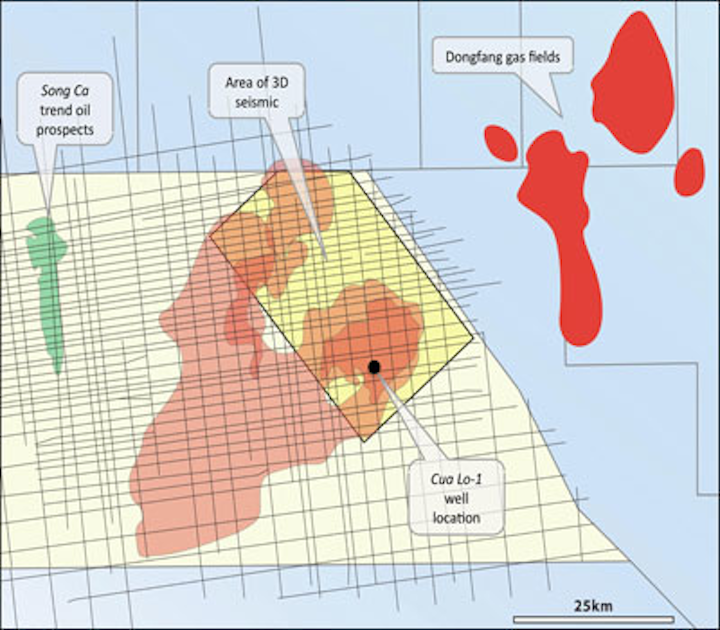 Offshore staff
WEST PERTH, Australia – The jackup Ensco 107 is heading to block 105-110/04 offshore Vietnam to drill the Eni-operated Cua Lo exploration prospect.
According to partner Neon Energy, drilling is expected to start on or around Aug. 5. Operations are estimated to last around 45 days, but more if production testing is warranted. Water depth is 76 m (249 ft).
The Cua Lo-1 well is designed to test five clastic reservoir targets ranging in age from Lower Pliocene to Upper Miocene. All exhibit seismic amplitude anomalies and positive amplitude versus offset anomalies.
In May 2011, Netherland Sewell & Associates issued a resource estimate for the structure ranging from 3.9-13.9 tcf (110-394 bcm), based on the two prospective zones identified on the 2D seismic data available at the time.
Neon believes last year'sDongfang 13-2 gas discovery, thought to be west of the main Dongfang structure, could be an analogue to Cua Lo. The 13-2 reservoirs are of a similar age to the primary objectives at Cua Lo, and appear to share the same seismic characteristics.
Elsewhere offshore Vietnam, the semisubmersibleSonga Mercur is on its way from Cuba, and is expected to arrive in block 120 during the first half of September. Here the partners are progressing prospect selection while site surveys are completed over various well locations. That data should be available early next month, providing a high-resolution 2D subsurface image.
The final prospect selection decision will follow soon afterward. Neon expects customary approvals from PetroVietnam in mid-August.
7/23/2013