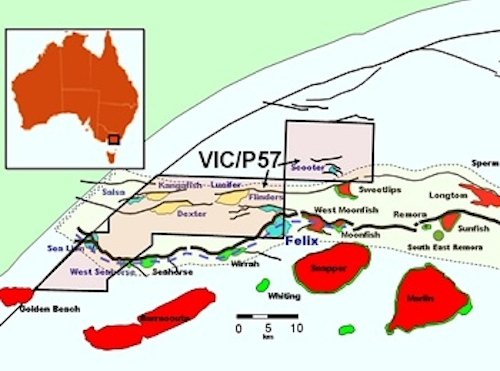 Offshore staff
MELBOURNE, Australia –3D Oil (ASX: TDO) and partner Hibiscus Petroleum Berhad will use a leased mobile offshore production unit to develop West Seahorse oil field in VIC/P57, offshore Victoria, Australia.

Front-end engineering design has started with the contract award to WorleyParsons (ASX: WOR).
Two production wells will be drilled prior to arrival of the MOPU, which is a modified jackup drilling rig fixed to the seabed for the life of the project. Drilling is expected to begin in before the end of 2Q 2014.
The MOPU will include processing facilities to remove associated gas and water, to stabilize the crude oil, and to export the stabilized crude.
Produced gas will be processed and used for fuel gas and enhanced recovery (gas lift) with the remaining gas being flared.
Field life is expected to be between four to five years, depending on factors such as operating costs and oil prices. Initial production rates are expected to be as high as 12,000 b/d of oil. West Seahorse has Best Estimate Contingent Resources of 9.2 MMbbl recoverable oil.
7/22/2013