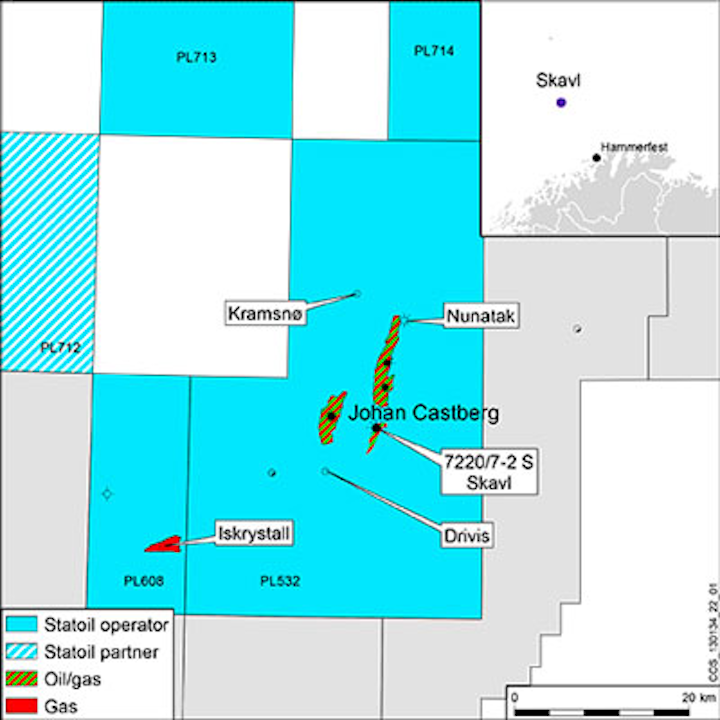 Offshore staff
STAVANGER, Norway – Statoil has proved oil and gas with its latest exploration well in the Johan Castberg area of the Barents Sea, 240 km (149 mi) northwest of Hammerfest.
The semisubmersibleWest Hercules drilled well 7220/7-2 S in 349 m (1,145 ft) of water on the Skavl prospect in license PL532.
It encountered a 22-m (72-ft) gas column and a 23-m (75-ft) oil column in the Jurassic Tubåen formation, and a 133-m (436-ft) oil column in the Triassic Fruholmen formation.
Statoil estimates recoverable oil volumes in the 20-50 MMbbl range.
"It is also encouraging that we have confirmed a new play model in the area with the oil discovery in the Fruholmen formation, something which will be followed up in future exploration," said Gro Haatvedt, senior vice for exploration on the Norwegian continental shelf.
This success followstwo small gas discoveries earlier in the year.
Statoil says it will continue exploring for oil in the area, in order to prove more reserves for the multi-fieldJohan Castberg development.
The rig will next head 16 km (9.9 mi) north to drill the Kramsnø prospect in the same license, with more wells planned around Johan Castberg in 2014. One of these will be on the Drivis prospect.
12/09/2013