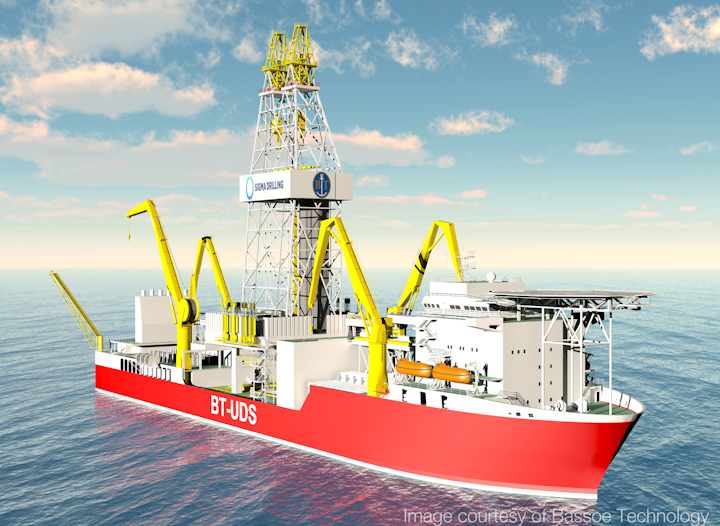 Offshore staff
ZURICH, Switzerland – ABB has secured the DNV notation for "Enhanced Reliability" and DYNPOS-AUTRO covering the electrical power and propulsion systems on a DP Class 3 drillship.
The vessel, scheduled for delivery in the second half of 2015 from the South Korea STX Jinhae yard, is an ultra-deepwater drillship of the BT-UDS design for Sigma Drilling.
The BT-UDS is a new design developed by Bassoe Technology. It is capable of drilling to 40,000 ft (12,190 m) in water depths of 12,000 ft (3650 m)/ The drillship will be 232 m (761 ft) long, 38 m (125 ft) wide with a payload capacity of 25,000 metric tons (27,558 tons). Six azimuthing thrusters combined with the Bassoe-developed hull form will provide a transit speed up to 16 knots.
ABB is supplying a power and propulsion plant and preventive maintenance systems, including generator sets, switchboards, thruster motors, thruster drives, the drilling drive systems, Diesel Generator Monitoring System (DGMS), and Remote Diagnostic System (RDS).
The new DYNPOS ER class notation for Enhanced Reliability from DNV recognizes advances made in flexibility, redundancy and fuel-efficiency in the structuring of DP systems. The notation covers connected power systems with standby start-up capabilities in specific conditions and the seamless and redundant change-over of generators and thrusters, via closed bus ties.
6/6/13