Statoil records second gas find in Barents Sea
Statoil has proved further gas in the Johan Castberg area in the Barents Sea.
Sep 23rd, 2013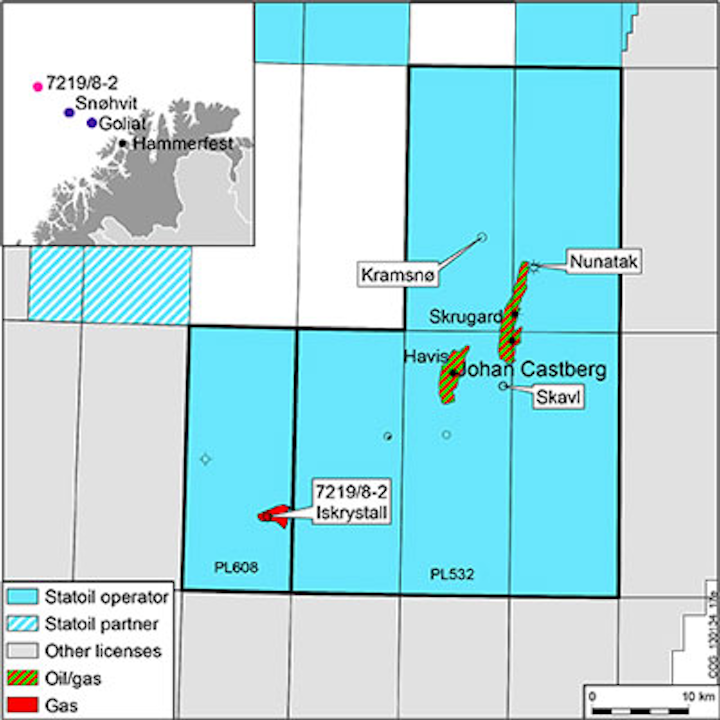 Offshore staff
STAVANGER, Norway – Statoil has proved further gas in the Johan Castberg area in the Barents Sea.
The semisubmersibleWest Hercules drilled well 7219/8-2 on the Iskrystall prospect in license PL608. The well interested a 200-m (656-ft) gas column with poorer than anticipated quality in both targeted formations. Water depth was 344 m (1,128 ft).
Statoil estimates volumes in the 6-25 MMboe range.
Iskrystall was the second of the four prospects drilled this year aimed at finding further volumes for the Johan Castberg (Skrugard/Havis) development project. The first well led to a small gas discovery on theNunatak structure.
"Our main goal was to find oil in Iskrystall, but unfortunately it did not materialize. We still believe we can prove more oil resources in the Johan Castberg area and will continue our exploration effort with two more wells in the Skavl and Kramsnø prospects," said Gro G. Haatvedt, senior vice president exploration Norway.
A comprehensive data acquisition program was performed in the Iskrystall well including coring, wireline logging, and fluid sampling. This gives valuable geological information about the Johan Castberg area.
Statoil and partners Eni and Petoro opted todelay an investment decision on Johan Castberg in June. Aside from resources issues, new legislation has introduced uncertainties into the tax frame work for the project. However, the remaining exploration wells and field development planning will continue until the partners are ready to make their decision.
West Hercules will next drill Skavl in PL532, 5 km (3.1 mi) south of Skrugard.
9/23/2013