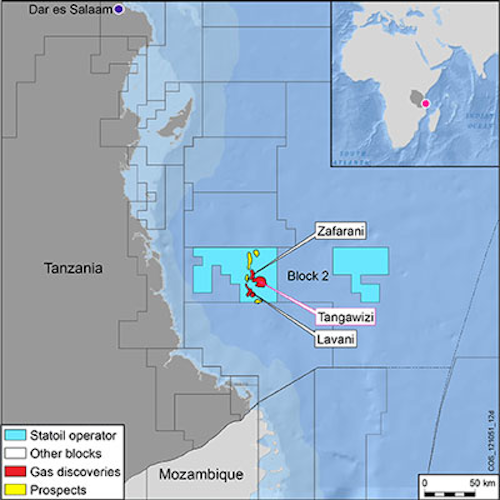 Offshore staff
STAVANGER, Norway – Statoil and partner ExxonMobil have discovered more gas in block 2 offshore Tanzania.
The 4-6 tcf (113-170 bcm) in place in the Tangawizi-1 well lifts total volumes on the block to date to 15-17 tcf (425-481 bcm).
"We have so far completed five wells within 15 months and will continue with further wells later this year," said Tim Dodson, executive vice president for exploration in Statoil. "Recoverable gas volumes in the range of 10-13 tcf [283-386 bcm] bring further robustness to a future decision on a potential LNG project."
Tangawizi-1, drilled by theOcean Rig Poseidon in 2,300 m (7,546 ft) water depth, encountered gas was in tertiary sandstone. The location is 10 km (6.2 mi) from the earlier Zafarani and Lavani finds.
There are further prospects on the block. Recently the partners acquired new 3D seismic data.
Statoil has allocated the drillshipDiscoverer Americas to East Africa to perform exploration drilling on its blocks off Tanzania and Mozambique (blocks 2 and 5).
Offshore Angola, the company has taken the drillshipStena Carron rig on a three-year contract for exploration drilling in presalt blocks 38 and 39 in the Kwanza basin, starting around the turn of this year. Estimated value of the contract is $700 million, and Statoil has two one-year extension options.
3/18/2013