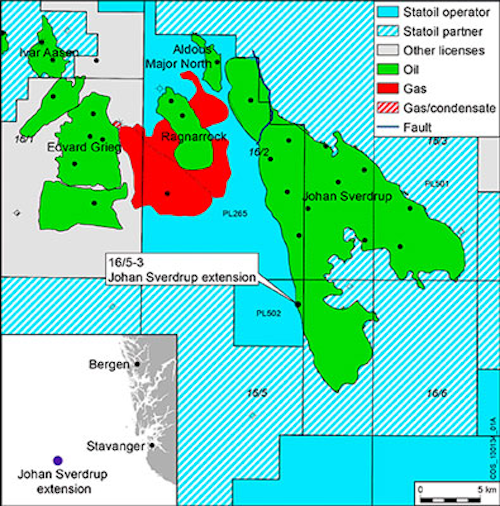 Offshore staff
STAVANGER, Norway – Statoil has finished drilling the latest appraisal well on the Johan Sverdrup field in the Norwegian North Sea.
The16/5-3 well has confirmed a small extension of the giant structure into license PL502 – it was formerly proven over neighboring PL501 and PL265.
The latest well proved a 13.5-m (44-ft) oil column in a good-quality Jurassic reservoir, and confirmed communication with the rest of the field. Results suggest there may be further upside potential in the area.
"The new subsurface data we got from well 16/5-3 have a positive impact on our evaluation of further upside potential west of the current outline of the Johan Sverdrup field," said Gro Haatvedt, senior vice president Exploration Norway. "Later this year, Statoil will drill an exploration well in the Cliffhanger prospect in PL265. This will be an important step to clarify and capture the full potential in the Johan Sverdrup area."
Statoil operates license PL502 with a 44.44% interest, in partnership with Petoro (33.33%), and Det norske oljeselskap (22.22%).
3/19/2013