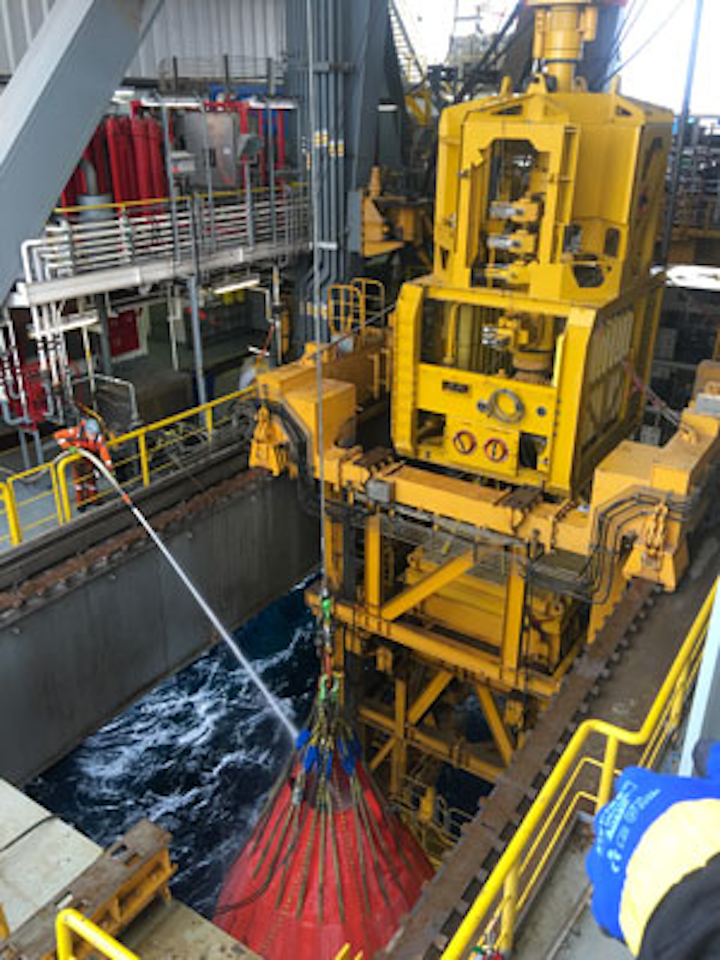 Offshore staff
HOUSTON –Wild Well Control Inc. has successfully P&A'd four subsea wells in the Gulf of Mexico using its DeepRange tool in conjunction with its 7Series riserless intervention system. These wells are part of a larger campaign, nine wells total, which began earlier this year in 7,000 ft (2,134 m) of water.
In a press conference at OTC, Martial Burguieres, Wild Well vice president of Marine Services, said: "The new tools and techniques used on this project have already exceeded expectations. We are moving on to our sixth well, which is ahead of schedule."
The new technology used, Wild Well DeepRange, is a riserless subsea P&A tool that is an alternative to traditional method operations "that can save customers millions of dollars," commented Burguieres. "Around 50% is shaved off of current market rates."
The tool, which works in conjunction with the Wild Well 7Series intervention system, is certified to depths of up to 10,000 ft (3,048 m) and a maximum working pressure of 10,000 psi. It employs a binary plug comprising resin and cement, developed along with CSI, to increase the likelihood of a successful test as well as overall long-term effectiveness of the operations.
While this is the company's second P&A campaign, the first being deployed in Angola, it is its first deepwater campaign. The main difference between the two campaigns is that the engineers had to place 200-ft (61-m) cement barriers into the outer annuli in deeper water.
After the company used the 7Series circulating lines and pressure control valves to deal with annular casing pressure, divers used the hot tapping equipment to penetrate into the production bore from outside the wellhead. But in the new campaign, hot tapping would not work. The idea was to be able to keep all operations under constant pressure control and eliminate the need for diver intervention.
The DeepRange operation occurs from a multi-service vessel which costs less than a mobile offshore drilling unit. Burguieres stated that while the total cost can very slightly, given the total amount of work and configuration of the well and production system, huge saving costs are occurring.
"This new technology is a game changer, and is going to be the future of P&A practices," he added.
Wild Well Control is exhibiting at booth #2931.
05/03/2016