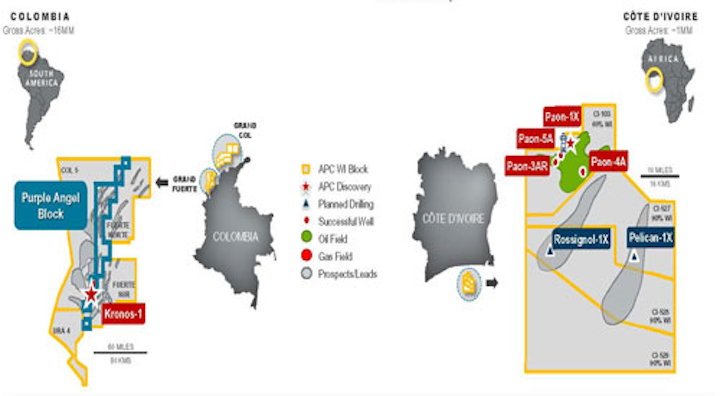 Offshore staff
THE WOODLANDS, Texas – Anadarko plans to drill an exploration well later this year on the Purple Angel block offshore western Colombia.
The well will test similar objectives similar to those that provided gas at last year'sKronos discovery.
Phase II of the company's Esmeralda 3D seismic survey covering 13,000 sq km (5,019 sq mi) of offshore blocks COL 1, 2, 6, and 7 is around 75% complete.
Offshore Côte d'Ivoire, Anadarko's second deepwater horizontal well on block CI-103, the Paon-3AR side track, encountered around 120 net ft (36.6 m) TVT of pay.
The rig is currently on location at the earlier Paon-5A well location preparing for a drillstem and interference testing program.
Data from these operations should provide insight on reservoir connectivity, deliverability, and fluid properties.
Later in the current quarter, after completing the Paon appraisal process, the company intends to spud the first of two exploratory wells on blocks CI-527 and CI-528 on the Oelican and Rossignol prospects.
Both wells will target similar-aged sands along trend to thePaon discovery.
07/27/2016
Share your news withOffshore at news@offshore-mag.com