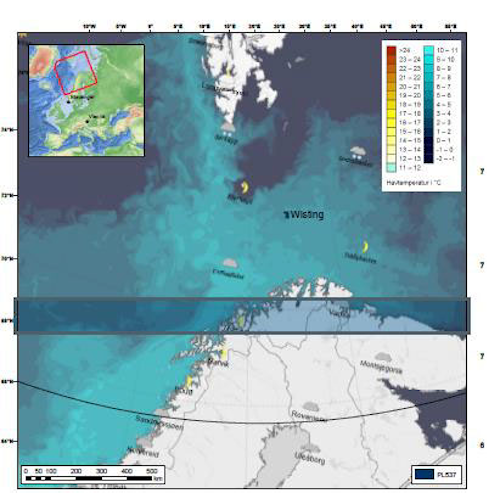 Offshore staff
VIENNA, Austria – The semisubmersible Transocean Spitsbergen has completed drilling and testing of the OMV-operated Wisting Central II appraisal well in the Barents Sea.
The location, 310 km (192 mi) north of Hammerfest, is the most northerly to date for an oil discovery offshore Norway, in a water depth of 302 m (991 ft).
This was also the fifth well on production license PL537, awarded in 2009. OMV conducted planning and execution of the well in cooperation with various divisions of Schlumberger.
Wisting Central II was the first horizontal appraisal well in the Barents Sea and the shallowest horizontal offshore well ever drilled from a floating drilling unit, OMV claims, with the targeted reservoir just 250 m (820 ft) below the seabed.
The well, spudded on Jan. 15, started vertically and was then steered into a horizontal orientation within a 250-m vertical depth interval.
Subsequently it was landed horizontally with a 12¼-in. hole size; total well length is 2,354 m (7,723 ft) with a horizontal section of 1,452 m (4,764 ft). Advanced data collection and geo-steering continued through the horizontal phase.
The well test, with 461 m (1,512 ft) net perforations at the toe of the horizontal section, was finalized at the end of March. The well has since been permanently P&A'd.
OMV's aims were to confirm the field's economic potential by hydrocarbons in the previously undrilled Wisting Central South and Central West segments, and to assess the technical feasibility of long-reach horizontal wells in a very shallow reservoir ahead of a possible development.
The subsequent test of the low-temperature and low-pressure reservoir delivered flow rates of more than 5,000 boe/d.
OMV expects the results to raise in-place volumes in the Central South and Central West segments, and the drilling experience should reduce the uncertainty associated with extended horizontal wells for the development.
Recently the company relayed its findings at the 2016 Vienna EAGE convention, as Wisting is also said to be unique in terms of seismic attributes and electromagnetics.
OMV senior expert Helene Veire said: "We have utilized a common elastic earth model integrating all data from earlier wells with interesting findings like highly anisotropic overburden and reliable zero-offset well-tie.
"The integrated interpretation is a demanding process, but has the added benefit of providing enhanced technical learnings. We profit from an increased understanding ofseismic processing challenges and have a good starting point for further work on seismic reservoir characterization."
06/22/2016
Share your news withOffshore at news@offshore-mag.com