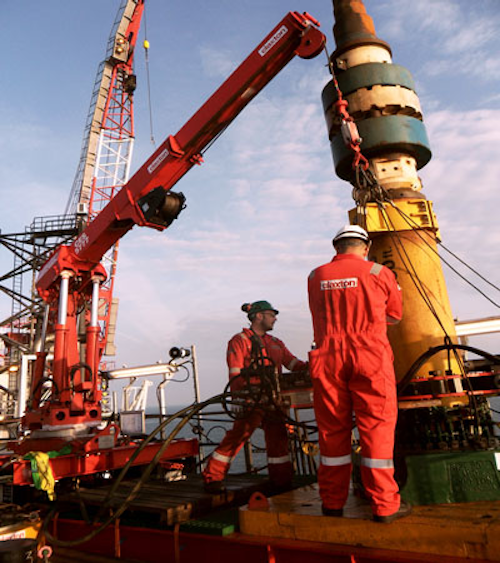 Offshore staff
GREAT YARMOUTH, UK – Claxton has completed work on two well abandonments on the Tullow Oil-operated Horne and Wren platform in the UK southern North Sea.
The program, spread across 18 days last month, involved the 5½-in. tubing cut verification, tubing recovery, sub-mudline abrasive conductor severance, conductor cut verification, and the subsequent multi-string recovery from both wells.
According to Rob Horton, project engineer, the multi-string severance was performed from a jackup lift barge (JULB) for this project, achieving cost savings for the client over use of a conventional rig.
"The Horne and Wren platform has a small 8 x 8-m [26 x 26-ft] weather deck footprint, creating a space challenge which we managed to overcome. As well as using our latest evolution of the 'SABRE' abrasive cutting system, this project also required a full, bespoke, light weight work package. This included a hydraulic proving system and a utility crane to ensure self-sufficiency in handling our equipment.
"Proving of tubing and conductor cuts were completed with the same system, enabling us to reduce equipment, time, and money for the client. Equipment was located on the JULB with services run to the platform for the tubing recovery and multi-string severance and subsequent casing retrieval.
"We also developed a bespoke tubing laydown frame that allowed the quick and safe laydown of the severed tubing in a controlled manner."
08/24/2016
Share your news withOffshore at news@offshore-mag.com