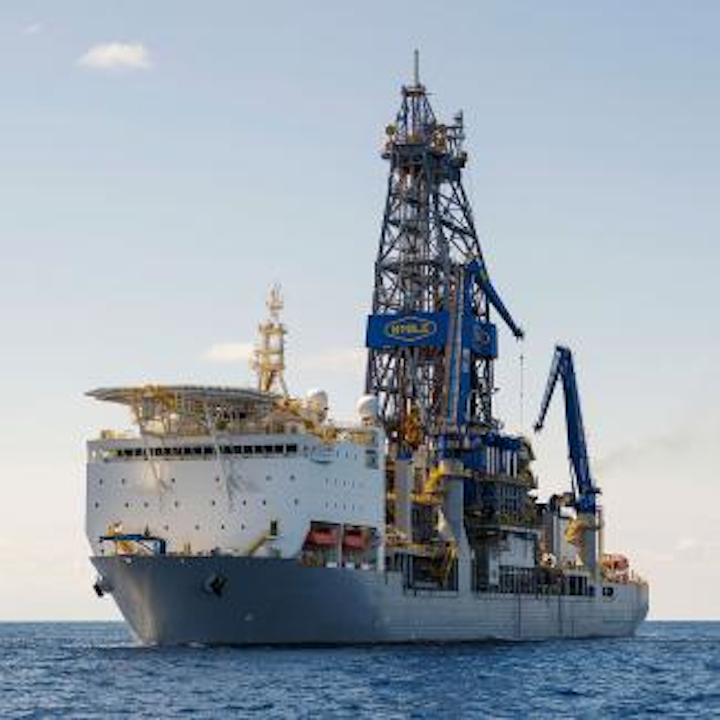 Offshore staff
NEW YORK– A Noble Corp. drillship will return to work and the rig provider has fixed day rates with another major customer, according to IHS Petrodata. The two pieces of news were reported in advance of the company's April fleet status update report, in a recent note from Evercore ISI's Oilfield Services, Equipment & Drilling group.
The ultra-deepwaterNoble Tom Madden will return to work for Freeport-McMoRan Oil & Gas in the Gulf of Mexico after it had been laid-up earlier this year, the news service reported.
Noble Tom Madden had been on standby since January, when Freeport-McMoRan announced a reduction in capex, first saying it would idle two of three of its working drillships before later announcing it would idle all three. At that time, reports persisted that the minerals, mining, and natural resources conglomerate would exit the oil and gas sector entirely.
However, in this month's fleet status update, released March 11, Noble Corp. said that talks were ongoing with the operator to possibly restructure contracts.
Now,Noble Tom Madden, under contract until November 2017, is on location in the KOQV field within Mississippi Canyon 127, where it has been granted an approved permit to complete the No. SS1 well in 1,668 m (5,471 ft) of water, according to IHS Petrodata.  Freeport McMoRan's other contracted drilling rigs, Noble Sam Croft and Rowan Relentless remain on standby.
Completing another item it reported as ongoing in its March update, IHS Petrodata also reported that Noble Corp. has agreed upon day rates with Saudi Aramco for this year in relation to the ongoing contracts for jackupsNoble Scott Marks, Noble Roger Lewis, Noble Gene House, and Noble Joe Beall.
"The rates for the first two (122 m/400 ft-rated IC) units were reported to have been discounted from $169,250 as previously agreed for the year 2015, to $167,250 for 2016. The day rates for the latter two(91 m/300 ft-rated IC) units are to remain at the previously agreed rate of $65,000.
"In comparison, these contracts were originally awarded at day rates of $257,000 for the two higher-specification rigs and $143,000 for the other two units. The contracts forNoble Scott Marks and Noble Roger Lewis are due to expire in 2017 while the charters of Noble Gene House and Noble Joe Beall are due to end in 2018," IHS Petrodata said, as quoted by Evercore ISI.
03/30/2016
Share your news withOffshoreat news@offshore-mag.com