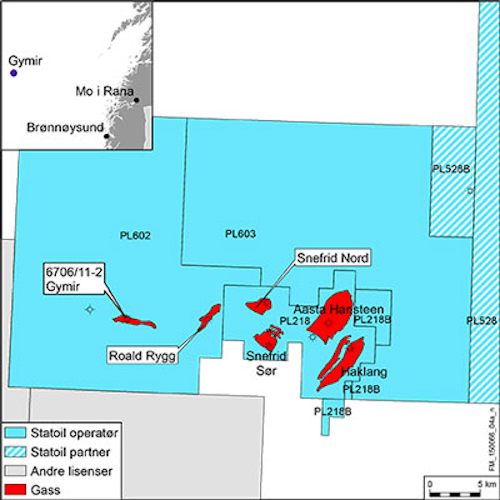 Offshore staff
STAVANGER, Norway – Statoil has managed a third successive gas discovery in the Aasta Hansteen area of the Norwegian Sea.
The semisubmersibleTransocean Spitsbergen drilled well 6706/11-2 on the Gymir prospect in license PL602, encountering a 70-m (229-ft) gas column in the Nise formation with good reservoir qualities.
Statoil estimates recoverable volumes in the 6-19 MMboe range, lifting the total discovered this year in the area to 75-120 MMboe – the earlier finds wereSnefrid Nord and Roald Rygg. This is equivalent to roughly one-third of the Aasta Hansteen recoverable volumes.
All three fields will undergo assessment for future tie-ins to the Aasta Hansteen facilities to prolong the production plateau.
Statoil claims these were the fastest deepwater wells ever drilled on the Norwegian continental shelf, the Gymir well was completed in 13 days. By cutting the originally estimated drilling time by 50 days, the program saved around NOK 360 million ($46 million), the company added.
This was due to a combination of Statoil's technical efficiency program STEP, and the ability of the onshore planning team and theTransocean Spitsbergen crew to streamline the drilling process, said Thor Emil Bensvik, head of Statoil exploration drilling operations on the NCS.
06/09/2015