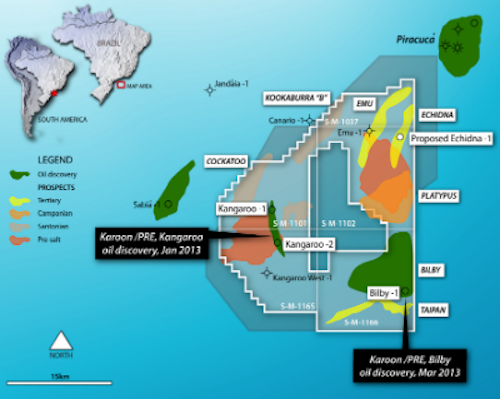 Offshore staff
MELBOURNE, Australia – Karoon Gas Australia says its Kangaroo West-1 exploration well is dry, after having reached planned total depth of 3,170 m (10,400 ft) below rotary table (mRT).
The well is located in exploration block S-M-1165 of the Santos basin off Brazil. The company said that based on mudlog and LWD petrophysical data, no hydrocarbons were intersected.
The well intersected a good thick sealing unit before penetrating a thick sequence of Paleocene to Campanian interbedded sands and shales. The lack of hydrocarbons is attributed to a lack of oil migration charge into the structure, previously recognized as the main risk with this prospect.
Since the March 2015 report, the well was drilled from 1,759 mRT (5,700 ft) to the current depth. Current operations are completing a wireline logging program. TheOlinda Star semisubmersible drilling rig, which is contracted for the entirety of the campaign, will move to the next well location in the coming days.
The Kangaroo West-1 exploration well is estimated to cost approximately $34 million net to Karoon.
The joint venture has elected to take up the first option well to drill the Echidna-1 exploration well. The Echidna prospect is located in exploration block S-M-1102, approximately 20 km (12 mi) northeast of Kangaroo on the eastern flank of a salt diapir in a similar geological setting to theKangaroo oil field. The 3D seismic at Echidna shows seismic anomalies similar to that seen in Kangaroo-2.
Based on the new higher-resolution seismic data, the company says that the faulting density in the Echidna prospect appears to be less than that seen in surrounding fields and prospects, reducing the complexity of any potential oil accumulation. The Paleocene and Maastrichtian reservoirs in the Echidna prospect were deposited in shallower marine settings relative to other Karoon wells, resulting in an increased likelihood that cleaner and better reservoirs are present.
The Echidna prospect has been risked with a chance of success calculated at 43%.
Work is progressing with the interpretation of the new data received following the drilling of Kangaroo-2 and its two side tracks. More data is still to be received from contractors including core and fluid sampling data. In the coming months, the remapping with this new higher resolution 2 millisecond seismic data will also be integrated into the field model.
In addition, the rig contract provides Karoon with one additional option well.
Karoon holds a 65% interest in and is operator of the jointly held exploration blocks S-M-1037, S-M-1101, S-M-1102, S-M-1165 and S-M-1166 in the Santos basin off Brazil. Pacific Rubiales Energy Corp. holds the remaining 35% interest in these blocks.
03/23/2015