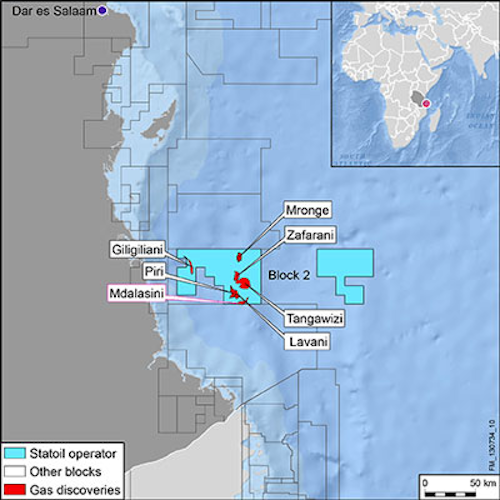 Offshore staff
STAVANGER, Norway– Statoil's Mdalasini-1 exploration well has resulted in a new natural gas discovery in block 2 offshore Tanzania.
The Mdalasini-1 discovery is located at a 2,296-m (7,534-ft) water depth at the southernmost edge of the block. The new gas discovery was made in Tertiary and Cretaceous sandstones.
The discovery of an additional 1.0-1.8 tcf of natural gas in place in the Mdalasini-1 well, brings the total of in-place volumes up to approximately 22 tcf in block 2.
Nick Maden, senior vice president for Statoil's exploration activities in the Western Hemisphere, said: "The Mdalasini-1 discovery marks the completion of the first phase of an efficient and successful multi-well exploration program offshore Tanzania.
"Since the start of the program in February 2012, we have drilled 13 wells and made eight discoveries, including Mdalasini-1. We still see prospectivity in the area, but after appraising the Tangawizi-1 high-impact discovery, which was made in March 2013, there will be a pause in the drilling to evaluate the next steps and to mature new prospects."
Statoil has drilled the Mdalasini-1 well with a 100% working interest. Previously Statoil and co-venturer ExxonMobil have made seven discoveries in block 2, including the five high-impact gas discoveries Zafarani-1, Lavani-1, Tangawizi-1, Mronge-1 and Piri-1, as well as the discoveries in Lavani-2 and Gilligiliani-1.
Statoil operates the licence on block 2 on behalf of Tanzania Petroleum Development Corp. (TPDC) and has a 65% working interest. ExxonMobil Exploration and Production Tanzania Ltd. holds the remaining 35%. TPDC has the right to a 10% working interest in case of a development phase.
03/30/2015