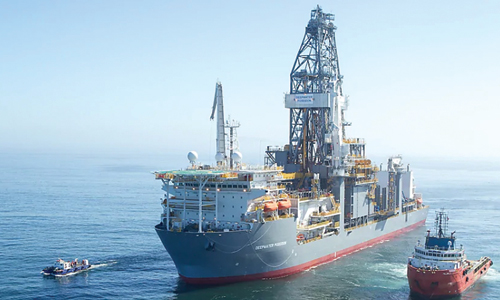 (Courtesy Shell)
Norphlet play figures prominently in new findings
Bruce Beaubouef, Managing Editor
The outlookfor deepwater drilling in the Gulf of Mexico has been slowly improving over the past year. The number of drilling rigs in the Gulf is up by four, from 19 to 23, compared to last year, according to the Baker Hughes rig count of Dec. 14, 2018. And that number is up by one compared to two years ago (2016), when the active US GoM rig count stood at 22.
And, operators reported finding a number of new and important oil discoveries in the deepwater US Gulf in 2018.
In January, both Shell and Total announced new deepwater discoveries. Shell Offshore Inc. reported that it had made one of its largest US Gulf of Mexico exploration finds in the past decade from its Whale deepwater well. The well encountered more than 1,400 net ft (427 m) of oil-bearing pay. Evaluation of the discovery is ongoing, and appraisal drilling is under way to further delineate the discovery and define development options.
"Deepwater is an important growth priority as we reshape Shell into a world-class investment case," said Andy Brown, Upstream Director for Royal Dutch Shell. "Today's announcement shows how, through exploration, we are sustaining a strong pipeline of discoveries and future projects to sustain this deepwater growth."
Whale is operated by Shell (60%) and co-owned by Chevron U.S.A. Inc. (40%). It was discovered in the Alaminos Canyon block 772, adjacent to the Shell-operated Silvertip field and approximately 10 mi (16 km) from the Shell-operated Perdido platform.
"Whale builds on Shell's successful, nearly 40-year history in the deepwaters of the Gulf of Mexico and is particularly special in that it offers a combination of materiality, scope and proximity to existing infrastructure," said Marc Gerrits, Executive Vice-President Exploration for Royal Dutch Shell. "The result is another opportunity to think differently about ways we can competitively develop deepwater resources."
(Courtesy Shell)
This major discovery in a key Shell production area added to the company's Paleogene exploration success in the Perdido area. Through exploration, Royal Dutch Shell says it has added more than 1 Bboe resources in the last decade in the Gulf of Mexico.
Total added to its deepwater reserves with its Ballymore prospect in the Eastern GoM, which it described as "a major oil discovery." The well was drilled to a final depth of 29,193 ft (8,898 m) and encountered 673 ft (205 m) of net oil pay in a high quality Norphlet reservoir.
Arnaud Breuillac, President Exploration & Production at Total, said: "This major discovery gives us access to large oil resources and follow on potential in the emerging Norphlet play. It also demonstrates all the interest of Total's GoM farm-in agreement with Chevron, where we acquired a 40% interest in Ballymore. While already deemed commercially viable, we will work together on the appraisal of this discovery and a cost-effective scheme to ensure a rapid, low breakeven development."
Located in water depth of about 6,562 ft (2,000 m) and 75 mi (120 km) from the Louisiana coast, the Ballymore prospect covers four blocks in the Norphlet play, including Mississippi Canyon block 607 where the discovery was made.
(Courtesy Total)
Total's acquisition of a 40% working interest in Ballymore was part of an exploration agreement with Chevron (60%, operator) signed in September 2017 that included seven prospects covering 16 blocks in the Norphlet (Eastern GoM) and the Wilcox (Central GoM) plays.
"Ballymore is the largest discovery by Total in the prolific Gulf of Mexico and bolsters our new exploration strategy put in place since 2015," said Kevin McLachlan, Senior Vice President Exploration at Total.
Total also increased its access to the Gulf's deepwater reserves by acquiring an interest in the Anchor discovery in the Green Canyon area. It did so through an agreement with Samson to acquire Samson Offshore Anchor, LLC, which held a 12.5% interest in four blocks covering the deepwater Anchor discovery in the Gulf of Mexico. The deal also included a 12.5% interest in the nearby Green Canyon block 761, where Total already has a 25% interest.
Arnaud Breuillac, President Exploration & Production at Total, said: "The entry in the Anchor discovery further increases Total's footprint in deepwater Gulf of Mexico. It follows our entry in seven exploration prospects located in the promising Wilcox (Central GoM) and Norphlet (Eastern GoM) plays thanks to an agreement signed with Chevron last September, and in the Jack field where the group will acquire a 25% interest as part of the Maersk Oil deal."
Discovered in the Wilcox play in 2014, Anchor is about 140 mi (225 km) offshore Louisiana in more than 4,921 ft (1,500 m) of water. Anchor is operated by Chevron (55%) alongside Cobalt (20%), and Venari (12.5%).
Shell added to its deepwater findings in May, when it reported that it had made a "large oil discovery" with its Dover exploration well in the Norphlet geologic play in the deepwater Gulf.
The Dover discovery, drilled by the Transocean Deepwater Poseidon ultra-deepwater drillship, is Shell's sixth in the Norphlet and encountered more than 800 net ft (244 m) of pay.
The well was drilled in Mississippi Canyon block 612, located about 170 mi (273 km) southeast of New Orleans, in a water depth of 7,500 ft (2,280 m) to a total vertical drilling depth of 29,000 ft (8,839 m) measured depth.
Andy Brown, Upstream Director for Royal Dutch Shell, said: "Dover showcases our expertise in discovering new, commercial resources in a heartland helping deliver our deepwater growth priority. By focusing on near-field exploration opportunities in the Norphlet, we are adding to our resource base in a prolific basin that will be anchored by the Appomattox development."
The discovery is located about 13 mi (21 km) from the Appomattox host and is considered an attractive potential tieback. •
For more on deepwater discoveries made in the Gulf of Mexico, turn to Offshore's annual survey, Status of US Gulf of Mexico Deepwater Discoveries.