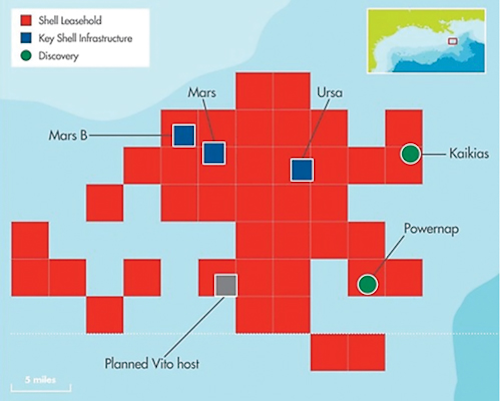 Deepwater project brought online a year ahead of schedule
Bruce Beaubouef,Managing Editor
Shell hasdemonstrated what is possible in terms of lower costs and reduced cycle times with its Kaikias project in the deepwater Gulf of Mexico. In May, the company announced that it had started production at the Kaikias project about one year ahead of schedule. Cycle time from discovery to production for Kaikias phase one was less than four years.
Discovered in August 2014, Kaikias is in about 4,575 ft (1,395 m) of water in the Mars-Ursa basin about 130 mi (210 km) offshore Louisiana. The Kaikias field is estimated to contain more than 100 MMboe of recoverable resources. Shell is the operator and has an 80% working interest. MOEX NA, a wholly owned subsidiary of Mitsui Oil Exploration Co. Ltd., has the remaining 20% working interest.
Shell says that Kaikias is a high-value opportunity in the deepwater Gulf that is located in close proximity to existing Shell infrastructure. The first-phase development sends production from four wells to the Shell-operated (45%) Ursa hub, which is co-owned by BP (23%), ExxonMobil (16%), and ConocoPhillips (16%). From the Ursa hub, volumes ultimately flow into the Mars oil pipeline. Estimated peak production is 40,000 boe/d.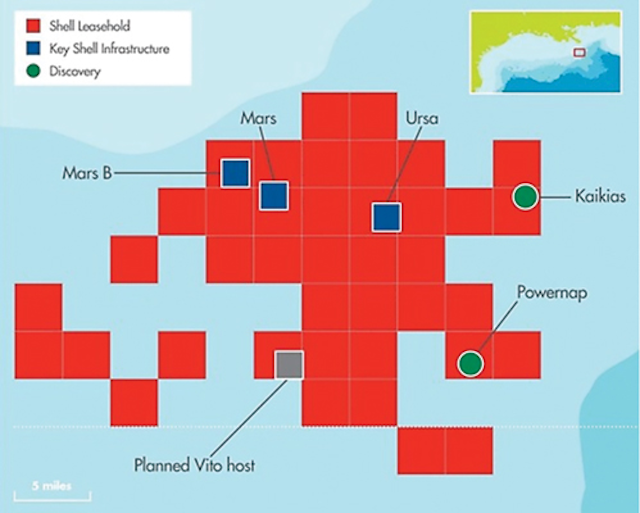 Discovered in August 2014, Kaikias is in about 4,575 ft (1,395 m) of water in the Mars-Ursa basin. (Images courtesy Shell)
Shell will redevelop the existing exploration and appraisal wells instead of drilling new production wells, which will help the company achieve an approximate 50% reduction in the overall development costs, while also facilitating the early commercialization of the project.
Since taking the investment decision in early 2017, Shell has lowered the forward-looking, break-even price to less than $30 per barrel of oil.
"We believe Kaikias is the most competitive subsea development in the Gulf of Mexico and a prime example of the deepwater opportunities we're able to advance with our technical expertise and capital discipline," said Andy Brown, Upstream Director, Royal Dutch Shell.
"In addition to accelerating production for Kaikias, we reduced costs with a simplified well design and the incorporation of existing subsea and processing equipment."
The results at Kaikias are part of Shell's efforts to restructure its deepwater business in the wake of the downturn. A key part of that new approach has been to include what the company calls "competitive rescoping" – boiling down project designs to only the amount needed for safety requirements and minimum operational specifications. Floating platforms system designs have simplified and made more efficient, or eliminated altogether. Other systems and components have been standardized, reduced, or removed. Shell worked with its vendors and contractors to find ways of making its engineering and design concepts more efficient, and to look for new ways of reducing project costs. And reducing cycle time to get the cash flow moving sooner has been a key goal throughout the process.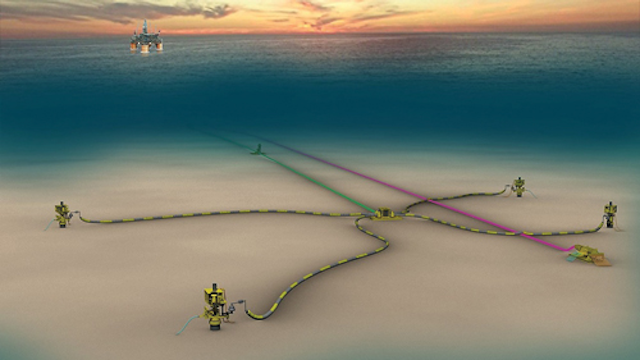 The first phase of the Kaikias project will include four wells tied back using a single flowline to the nearby Shell-operated Ursa production hub.
So it was with Kaikias, which involves a single flowline tieback to the Ursa TLP, located in Mississippi Canyon block 810, just six miles away. "We're using an existing facility to tie into, and we're using the existing process system on the Ursa TLP to further reduce capital costs on Kaikias," said Rick Tallant, Asset Manager–Gulf of Mexico East for Shell. "In the past, we may have wanted to build a new processing train or make some other modifications. But with this lean approach, we have been able to find a way to use the existing facilities on Ursa, with some minor modifications, that allow us to bring the capital costs down even further."
By simplifying the design and using lessons learned from other projects, Shell has been able to reduce the total cost on Kaikias by nearly 50%. "We're making use of assets that have already been capitalized," says Tallant. "If you look at both Mars and Ursa, production has been ongoing for years, and now there's available capacity in those systems. There's significant available weight, space, and capacity at those facilities, because those fields have probably seen peak production. Kaikias is six miles away from the Ursa platform. Using those assets is the most efficient way to produce those barrels. It just makes sense."
Reducing drilling and completion costs was a key focus area. "When we looked at our well designs, they were often quite complex in the past," Tallant said. "We've rescoped those to make sure that we've looked at the drilling margins, and that we have understood the safety concerns. No matter what we do, we're going to have a safe well. We're not going to do anything that is going to compromise safety. But, we found that there are well designs that are more efficient, and that we can drill these wells faster."
The search for drilling efficiencies led Shell to adopt a standardized well design. This enabled the company to use economies of scale, and make orders for multiple wells across the portfolio. "You can have backups from each of the individual wells to help each other, rather than buying two sets for every single well," Tallant noted.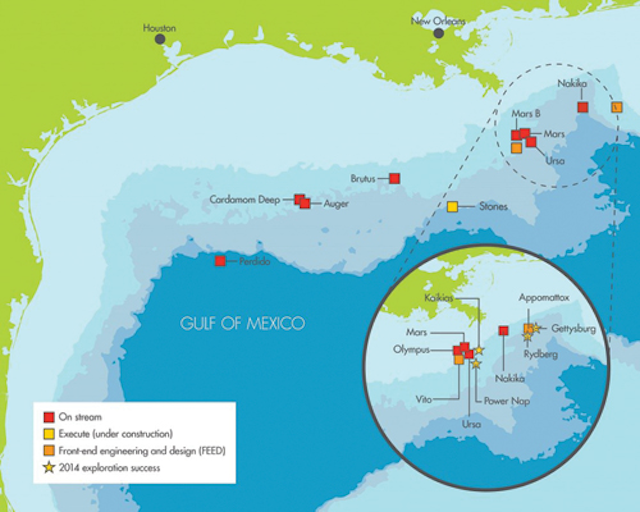 Shell says that Kaikias is a high-value opportunity in the deepwater Gulf that is located in close proximity to existing Shell infrastructure.
The result has been significant operational efficiencies, greater savings, and less downtime. "Honestly, it makes things run much faster," Tallant observed. "We find that if you standardize the well and all its various components, the crew knows exactly how to drill and complete each well. They've done it before with the same type of well they've done previously."
By standardizing its well design, Shell has been able to reduce the amount of casing needed per well, which brings further savings. This can be done while still maintaining a safe well, Tallant says. "Of course we want to drill a well safely, but we also want to be more efficient, and shorten the duration of drilling."
In fact, Shell completed the drilling and appraisal of Kaikias ahead of schedule and under budget, allowing the company to achieve more than 20% in cost savings in this key area. This achievement was reached despite the company drilling the longest well ever drilled by Shell at 34,500 ft measured depth.
Shell has also worked with its vendors to standardize their subsea offerings, and bring those costs down as well. A key part of this was a systematic effort to standardize subsea trees. Shell worked with TechnipFMC to move toward standardization of tree design and components, and subsea flowline concepts. "We asked them: 'What kind of designs do we need? Do we really need dual flowlines, or can we get by with one?'," Tallant noted.
For a number of Shell's upcoming deepwater projects, engineers determined that field development could move forward with only a single flowline. This has led to considerable capex savings. Kaikias has been a good example of these structural re-engineering efforts, Tallant says.
For example, Shell engineers decided to go with a single flowline, rather than a dual flowline for Kaikias. "In the past, and with higher oil prices, I think we would have gone with a dual flowline system," Tallant observed. "Having a dual flowline is a nice luxury – it gives you operational synergy and offers flexibility, but it overcapitalizes you upfront. In this case, we're going with a single flowline system, which has really reduced costs from the subsea side."
By taking a hard look at the three main components of Kaikias – the wells, the subsea system, and the tie-in – Shell has been able to optimize the design through the entire field development, and that in turn "has brought the break-even price down quite a bit," Tallant says. "Our drilling costs on Kaikias have come down probably about 50% from what they would have been at the beginning of the down cycle," Tallant observed, "and subsea costs are down about 30% as well."
TechnipFMC says it worked with Shell during the front-end planning and design for Kaikias phase one to engineer solutions that would improve the overall cost and pace of development. Under the terms of the contract, TechnipFMC was responsible for the manufacturing, installation, and integration of proprietary subsea production systems and subsea riser, jumper and flowlineequipment that was designed to improve project economics by optimizing field production and minimizing lead times.
"Kaikias is an example of a competitive and capital-efficient deepwater project using infrastructure already in place," Brown observed. "The team has done a great job [of reducing] the total cost by around 50% by simplifying the design and using lessons learned from previous subsea developments." •