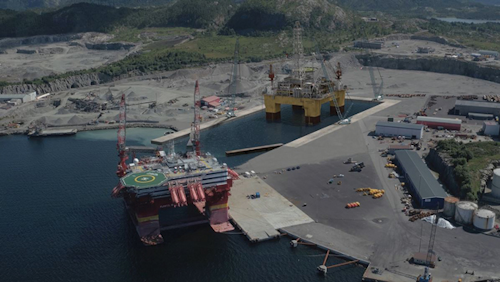 Dock development targets rig stays
PSW Group and Wergeland Holding have started construction of a new drydock in western Norway to accommodate offshore drilling rigs and vessels. The facility in Gulen Industrial Harbor, due to be completed in 2020, will be used for wide-ranging programs related to inspection, repair, and maintenance. Potentially the length could be extended by 50% to 300 m (984 ft): combined with a width of more than 100 m (328 ft) and a depth of 25 m (82 ft) this would be the largest facility of its kind in Europe, PSW claimed, with access to rigs and vessels from three sides leading to shorter yard stays.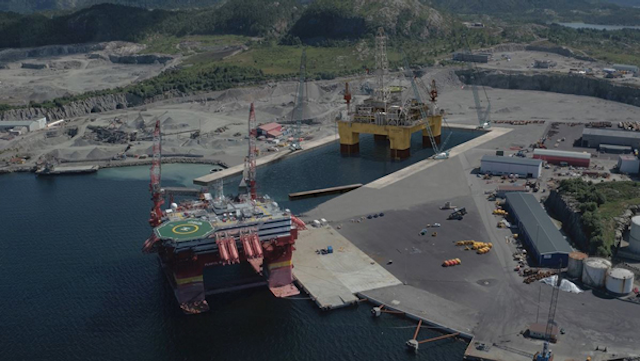 The new drydock under construction at Gulen Industrial Harbor. (Courtesy PSW Group)
CNOOC finds big gas at third attempt
CNOOC's recent Glengorm gas-condensate discovery could tempt others to test the surrounding play fairway in the UK central North Sea, according to various analysts. This was the company's third attempt to drill the prospect on the P2215 license after technical issues halted both previous operations. Borr Drilling's harsh environment jackup Prospector 5 spud the latest well toward the end of last year in 80 m (262 ft) of water on the way to a final depth of 5,056 m (16,588 ft), encountering 37 m (121 ft) of pay in an Upper Jurassic reservoir. Results were at the top end of expectations said CNOOC's partner Total, suggesting close to 250 MMboe recoverable.
Glengorm appears to be the UK's largest offshore gas find since Maersk's Culzean in 2008 said Wood Mackenzie and succeeded despite very high downhole temperatures and pressures. Another consultant, Westwood, added that this could be one of the sector's top four discoveries of the past two decades, the others being Buzzard in the same region and the still undeveloped Rosebank oil field west of Shetland. Westwood's Dr Keith Myers pointed out that the geological setting – Upper Jurassic turbidites – has in the past proven to be variable in this area in terms of thickness and quality. Like other nearby HP/HT structures, Glengorm is likely to be compartmentalized, he suggested.
The partners plan follow-up appraisal work and have identified other Jurassic prospects elsewhere on the block. As the Culzean field center, due onstream later this year, comes off plateau in 2023, capacity could become available for a subsea tieback, Myers said. Other tie-in options may include Total's Elgin-Franklin complex, which is closer, and BP's ETAP hub to the northwest. But CNOOC may prefer a standalone development. Rystad Energy said the results of this well will likely turn the area into an exploration hotspot over the next few years, building on the UK's strong exploration drilling record since 2016.
More tiebacks to Gjøa
Neptune Energy is looking to extend the life of the Gjøa field semisubmersible platform in the North Sea via two further satellite developments, in addition to the ongoing Nova field tieback. It has submitted plans to develop the P1 segment on the northern part of the Gjøa field and the 2016 Duva (ex-Cara) discovery to the northeast, where it proposes one gas and two oil production wells connected to a four-slot subsea template in 360 m (1,181 ft) water depth. In both cases, production through the platform could begin in late 2020/early 2021, with peak combined output of 54,000 boe/d.
Lundin Norway is the latest taker for TechnipFMC's integrated engineering, procurement, construction, and installation (iEPCI) model. The company has appointed the contractor to manage the Luno II and Rolvsnes subsea development in the Utsira High region of the North Sea, supplying and installing subsea production systems, rigid flowlines, umbilicals, and flexible jumpers in 110 m (361 ft) of water. All will be tied back to the Edvard Grieg field platform.
Tulip gas field goes live
Tulip Oil Netherlands has started production from Q10, its first operated gas field development in the Dutch North Sea, a year after taking a final investment decision. Heerema Fabrication Group supplied the unmanned platform, with Borr Drilling's jackup Prospector-1 responsible for the five development wells.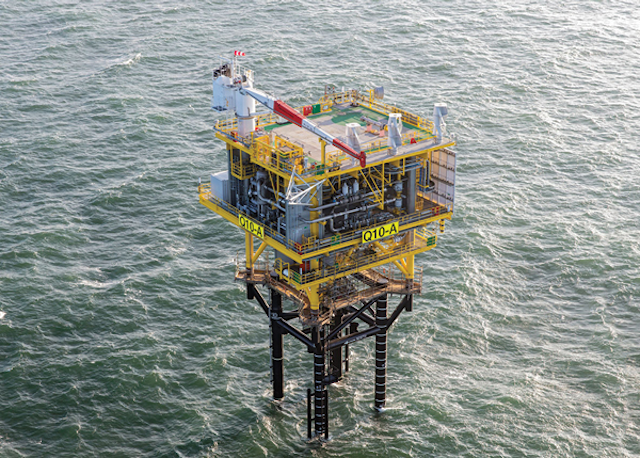 The newly onstream Q10 field platform. (Courtesy Tulip Oil)
Production heads to the TAQA-operated P15 platform via a new 42-km (26-mi) pipeline laid by Allseas. Tulip discovered Q10 (formerly known as A07A) in 2015 in shallow water, 20 km (12.4 mi) from the central Dutch west coast.