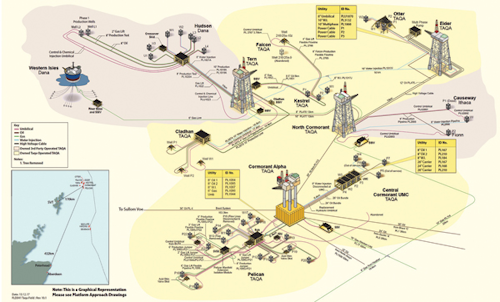 Production platform converted to new service role
Jeremy Beckman, Editor, Europe
North Seaoperators are striving to extend the lives of their older facilities. TAQA's Eider platform, installed in the late 1980s, had reached the point where running costs were too high to justify continued tail-end production from Eider and further hosting of the Otter field subsea tieback. But by re-routing Otter's oil and converting the platform to a new utility role, the company has managed to defer full-scale decommissioning until well into the 2020s.
Shell and partner Esso discovered Eider in 1976 in block 211/16 in the UK northern North Sea, in a water depth of 158 m (518 ft). The fixed steel platform, built in Nigg, northeast Scotland, comprised an 18,670-metric ton (20,580-ton) jacket and a 5,557-metric ton (6,125-ton) integrated deck – reportedly the first ever for a North Sea oil platform – supporting derrick, drilling and accommodation modules, a flare boom and helideck totaling an overall dry topsides weight of 11,606 metric tons (12,793 tons). The original plan called for seven production and seven water injection wells, with 10 spare well slots on the jacket in case further wells needed to be drilled through the heavily faulted mid-Jurassic Brent Group reservoir.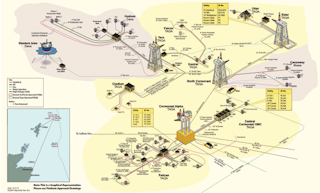 Area map. (All images courtesy TAQA)
Development also entailed extensive use of existing facilities at the partners' nearby Cormorant and Tern field platforms. So the Eider facility was designed for separating water from the production stream (first-stage separation) with oil and gas sent to North Cormorant for processing, while injection water would be imported from Tern. Eider's produced gas was used for power at the platform, with surplus power and gas sent to North Cormorant. North Cormorant and Eider are connected via a 33-kV subsea cable allowing power sharing between the two assets; generators on Eider and North Cormorant can generate power from process gas or diesel.
As Eider's oil production started to decline, capacity became available on the platform for a subsea tieback of the Otter oil field, 21 km (13 mi) to the northwest, which operator Total developed in the late 1990s via three oil production wells fitted with dual electric submersible pumps, with Tern providing injection water for reservoir support. During the following decade, Shell, like other major oil companies in the area, decided to downsize in the UK North Sea, and this led to Abu Dhabi National Energy Company PJSC (TAQA) assuming operatorship in 2008 of Eider, Cormorant Alpha, North Cormorant, Tern, and associated subsea fields. In 2012 the company negotiated a separate deal with Total that gave it full ownership of Otter.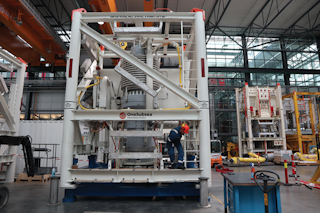 The new multi-phase pump designed and constructed by OneSubsea for the Otter field for the bypass project.
Between 2009 and 2017 TAQA reactivated the Eider platform's drilling rig, extended the accommodation, replaced the water injection and production flowlines between Eider and Otter, and carried out obsolescence and maintenance projects on the platform to ensure continued economic and safe operation. "The facility remained essentially as it was installed with the addition of some further accommodation modules, through 2017," said Technical Director David Gibson. "Other than maintenance and some obsolescence changes, Otter system support or utilities have also remained as they were when TAQA took over operatorship.
"During the period to 2017, the company completed well interventions and scale squeezes to maintain safe production on the Eider and Otter wells. Subsurface studies were carried out, but these did not identify further economic infill targets. On Otter, the company commissioned workovers to replace a failed electric submersible pump and dive support vessel campaigns to rectify subsea infrastructure issues and production was maintained through scale squeeze activities."
When Eider came onstream in November 1988, estimated in-place oil, according to the field development plan (FDP), was 204 MMbbl with targeted production over the life of the field of 85 MMbbl, a recovery factor of 42%. Shell later issued an addendum to the FDP extending production to the Eider West area, where the target was 2 MMbbl from estimated reserves of 6.6 MMbbl, lifting the total anticipated recovery to 87 MMbbl. "In fact Eider's production has been significantly better than estimated in the two FDPs," Gibson said, "with the field delivering 118 MMbbl from the latest resource estimate of 240 MMbbl, a recovery factor of around 49%.
"However, by late 2017 the well delivery rate was at a level where production was uneconomic and the combined opex across North Cormorant, Eider, and Tern would have rendered the entire area uneconomic if we had done nothing. In addition, there were integrity issues with the water injection and production pipeline risers at Eider. By fully bypassing Eider, TAQA calculated that the integrity threat could be fully mitigated and opex reduced across the field."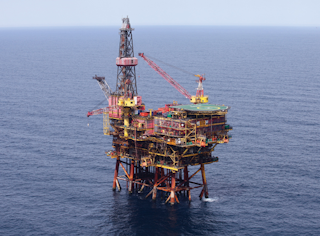 The Eider platform.
The project involved a series of measures including: P&A of all 18 Eider platform wells, with removal of all conductors – completed January 2019; bypass of hydrocarbon and water injection pipelines – completed September 2018; installation of a multiphase pump at Otter – completed September 2018; and flushing and purging of hydrocarbons and make-safe modifications on Eider – scheduled to be completed in April 2019.
Gibson explained: "The Eider platform was engineered to be remotely controlled via a microwave link from North Cormorant, although Shell's goal of sustained fully remote operation was not achieved. Under the bypass program only minor changes were necessary to the control systems so that Otter could be controlled directly from North Cormorant. Otherwise, the remote control arrangement remains basically the same as in the original design.
"There has been no need for structural strengthening on the Eider platform, and no equipment has been removed as yet. Maintenance has been significantly reduced as the platform is fully isolated from wells and pipelines. However, structural inspection will continue and any improvements to equipment performance arising from advances in digital techniques will be applied to Eider, as it would to the rest of the area.
"A very small crew remains, charged with maintaining the utility systems that provide power and utilities to Otter and power sharing for North Cormorant, enabling maintenance on that facility. We may also use Eider to demonstrate alternative removal methods and will consider any re-use opportunities for the asset."
In the platform's new utility mode, Otter production continues and with the latter's recently installed multi-phase pumping system, output is now higher as the system enables concurrent production from all the field's three oil wells. In addition, production reliability is increased and assured as the design life of the multiphase equipment is greater than that of the existing electric submersible pumps.
"As for North Cormorant," Gibson said, "only minor changes needed to be made to existing equipment in order for the platform to receive and meter the multiphase fluids from Otter. On Tern the water injection system was modified to provide pressure protection to the Otter flowline, a task that was previously handled from Eider."
Following the changes, TAQA expects the Eider platform to remain in utility mode into the next decade and for North Cormorant to keep producing until at least 2024. However, the company is keeping its options open for the area's longer-term future. "Cessation of production [CoP] of any asset is something that is reviewed on a regular basis," Gibson explained. "Within TAQA's UK northern North Sea portfolio there remain a number of opportunities that could bring greater value and/or change the CoP date. These assets remain open to new business opportunities."
Otter field life extension
The start-up in late October last year of a multi-phase pump (MPP) in the Otter field marked another milestone in TAQA's strategy of maximized economic recovery from its assets in the UK northern North Sea. This is the company's first use of MPP technology in the North Sea, and the investment not only extends the producing life of Otter, thereby helping to prolong the life of the host North Cormorant platform, but also creates a window of opportunity for the company to pursue new development prospects at North Cormorant.
Contractor OneSubsea performed design, testing, installation and commissioning of the pump within 16 months, with the total project management model fulfilling both parties' goal of improved execution efficiency. Project manager Derek Pullem commented: "It was critical for us to perform the project when we did – and within the set timescales – to maintain the viability of the overall strategy. Delivery has been closely interlinked with other strands of the strategy to help us achieve our overall production goals. If we're to make the most of our aging assets that is the kind of creative approach we'll need to take in future."
The program involved sustained support from TAQA's offshore personnel and close working links between installation contractor Subsea 7, Eider and North Cormorant during the final phases. With three Otter wells producing simultaneously, production from the Otter field has increased by around 3,000 b/d compared to levels in 2017. •